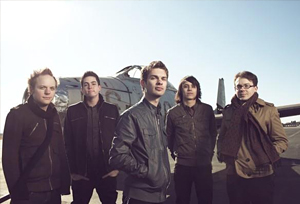 Winding down their current tour, bass player Joe Robinson from  the Pennsylvania band Soletta sat down with idobi Radio's Matt Vogel to talk about their debut EP; The Road Back Home, as well as their future plans.
idobi: You guys only have a few shows left; how has everything gone so far? How long have you been out on the road?
Joe Robinson: Everything's been going great so far — we just got off tour with Sherwood and The Dangerous Summer, and are continuing back east with The Dangerous Summer right now. The shows out west have been great, it was our first time out there. California is beautiful, the west coast is beautiful, and all the people out there were super nice to us and really receptive of new music, so we were really stoked on that.   Sherwood was just amazing dudes, the nicest dudes you could ever meet, and The Dangerous Summer are really cool guys as well, so we've just been having a blast on this whole tour. We've been out for about a month now, on it, and we've got I guess a week and a half left.
idobi: You released your new EP, The Road Back Home, not too long ago — how has that been received?
Robinson: It's been received a lot better than we ever expected it to be. We had a preorder thing going out and we sold out of that actually pretty quickly, so we had to like re-up their preorder and do something else special for the kids that's were preordering. And so far all the reviews have been good and all our fan input has been very positive so. And it's definitely something we worked really hard on and it's something that we're really proud of, and we're really glad that everyone else seems to like it too.
idobi: What plans do you guys have for this fall, or just the future in general?
Robinson: Right now we're going back home for about a month to just write and play and hang out with family and stuff. We're going out in late October, and early November with City Lights and Bright and Early to do an east coast tour; we just figure do the rest of the US while we're at it. We're in talks right now to possibly go over to the UK something early next year, so hopefully that'll work out. We've always wanted to go outside of the country, go visit Europe and stuff. You know the US has been pretty good to us, the east coast especially, obviously because that's where we're from. Yeah we're excited to just get our music out there; basically we just want to tour as much as possible and get our music out to as many kids as possible.
idobi: Being from the East, have you guys toured the rest of this country, or is this the first time you guys have toured so far away from home?
Robinson: This is our first time touring the country; we've done the East Coast once or twice as this band.   We used to do a lot of weekend warrior type stuff, like you know like up to Boston or down to Virginia or something. We did an East Coast tour last summer that went really well; this is our first US tour, and it's been going really well so we're really psyched to just keep at it and keep meeting new people and having as much fun as we've been having.
Be sure to listen to Soletta's EP,  The Road Back Home, as it's streaming on their Absolutepunk profile, and buy it on iTunes.
Tags:
Seoletta