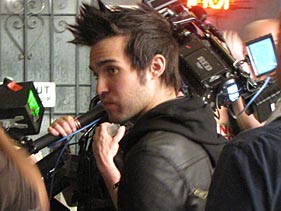 How did Pete Wentz prepare himself to direct the video for Train's "If It's Love"? He  read a book.
"Yeah, I did … it was pretty good too. It was called 'The Film Director's Intuition,' " Wentz told while on the set of the video. "I learned you're not going to go through film school overnight – in 24 hours you're not going to become this guy who knows this lens from that lens. But I always know how I want something to look, and what I learned from the book is that if you have the best director of photography and a great first assistant director, that you're going to end up with a good video."
And while the idea of Wentz directing a clip for Train may seem like it was anything but by the book it's not as far-fetched as one might assume. Both Fall Out Boy and Train are managed by the same company, and Wentz and Train mastermind Pat Monahan both know what it's like to live life beneath the glare of the spotlight.
"I got to know Pat and realized that we were kind of kindred spirits. I've been through the wringer, but he's been through the wringer, like, 20 times more than me, and he shared a lot of experiences and told me a lot of stuff," Wentz said. "And since early on in Fall Out Boy, I'd write the treatments with Alan Ferguson. And  the 'I Don't Care' video, I co-directed with Alan. So it's something that I've always had a passion for."
And Wentz is definitely drawing from his past for Train's "If It's Love", the follow-up to their massively successful "Hey, Soul Sister" single, but he's not stopping there, either. The video also recalls great moments from the storied history of music videos as well.
"I talked to Pat for a little bit, then wrote the treatment – I wanted to know where they'd be willing to go and how involved they'd want to be. And after it comes out, I think people will see they were pretty involved," Wentz said. "It's based off videos like Michael Jackson's 'Leave Me Alone,' or 'The Real Slim Shady' … it's a bit of a parody, you'll see Pat and the guys parodying themselves a bit. That's what I've always found from Fall Out Boy's videos. If you take the piss out of yourself, people like it."
Tags:
Fall Out Boy
,
Pete Wentz
,
Train