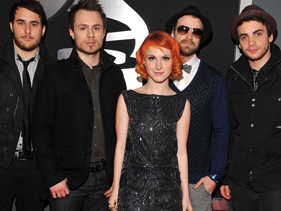 Back in early February, Paramore guitarist Josh Farro surprised fans when he announced he was engaged and that he would be sitting out the band's tour of the Pacific Rim to concentrate on all the things recently betrothed men tend to do in situations like this (read: meet with wedding planners, pretend to be interested in chair covers and table linens, etc.).
In Farro's absence, the band recruited guitarist Taylor York's brother, Justin, and have pressed on with the tour. But  Paramore is  still missing  its musical mate – and sort of wish they could be back at home with him while he plans for his big day.
"He's the first person to get married out of the band, obviously, and out of a lot of our friends, so not only is it a big deal, I don't think he wanted to leave and be trying to deal with it when he's never had an experience with that sort of thing," Paramore frontwoman Hayley Williams told MTV Radio earlier this week.
 "He's doing all the planning and all the work [involved] with it. … We're all really psyched for him."
Paramore will return to the U.S. next week, and they'll kick off a spring tour April 26. One would assume Farro would be back in the fold at that point (the band's label, Atlantic/ Fueled By Ramen, had not responded to a request for clarification by press time), because it sounds very much like he's going to be getting married in the time between tours.
"We're going to go home and, I think, five days after we get home from a little promo run in Europe, we're all going to go to the wedding," Williams said.
"I've only had one best friend ever get married, and I was actually a bridesmaid, which is sort of bittersweet, I guess. But this should be really, really fun, because Josh has been one of my best friends since I was 12 or 13, and it'll be kind of surreal and awesome to see one of my friends take that step. We can't wait."
Tags:
Paramore