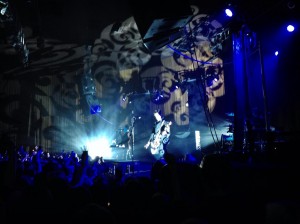 The temperature outside the Skyway Theater the night of the Panic! At The Disco's Minneapolis show was a frigid zero degrees with a wind chill plummeting into the negatives. But that didn't stop the hardy concertgoers of the Upper Midwest from filing up the venue before the show even started – just in time for Brooklyn's X Ambassadors and California's The Colourist to ignite the frozen winter evening with a fire that didn't die down until long after Panic!'s headlining set had ended. All three bands put on stellar sets that shouldn't be missed by anyone attending the Too Weird To Live, Too Rare To Die  tour that wraps up in February.
X Ambassadors kicked the night off to a sold out crowd, and they proved exactly why bands like Panic! At The Disco and Jimmy Eat World have chosen them to open up their tours. Starting with the sensual "Down with Me," the third track on their debut EP Love Songs Drug Songs, they showed the mostly under-21 crowd exactly what they're about: blowing your expectations out of the water with their bombastic energy and vocalist Sam Harris' ridiculous range. "Stranger" was a highlight of the set as it saw the introduction of a saxophone that the multi-talented Harris rocked out on with ease and then looped for the rest of the song, adding a layer that filled the track out perfectly. The sax was brought out periodically throughout the rest of the set, and it was definitely a welcomed instrument; what other non-ska bands do you know that play a saxophone on stage?
From there they launched into a ballad, "Litost," that entranced the crowd with its passion and intensity. It's been said that kids these days have a shorter attention span, but you wouldn't know it if you were in the crowd that night. Harris' brother Casey was jumping around on keys for literally the entire set, even during the ballad. Ending the set with the appropriately-titled "Brother," the band got people singing and clapping along, and their energy was unstoppable up until the very end.
Up next were Southern California quartet The Colourist, who despite the polar vortex outside brought the heat with their fiery set. A decidedly more pop group than X Ambassadors, they got everyone off their feet with tracks like "Yes Yes" and "Fix This" from their debut EP Lido. They've had a fast ascent in the last year, opening for bands like Youngblood Hawke in May and now playing as direct support to the almost entirely sold out Panic! run. It's for a good reason, of course, as they not only impressed with songs from Lido but their new songs (which took up most of their set) sounded fantastic. Between their incredible performances on this tour and their upcoming headlining run with Night Terrors of 1927, 2014 is shaping up to be the year of The Colourist.
For their part, Panic! are kicking off 2014 in a big way — they know how to put on a goddamn rock show. Their 21-song setlist was heavy on tracks from Vices and Virtues and Too Weird To Live, Too Rare To Die but they acknowledged the fact that many of their older fans were there to hear tracks from A Fever You Can't Sweat Out and delivered on that as well. Too Weird's "Vegas Lights" was the perfect opener and a good indicator of what was to come for the rest of the evening – a high energy set full of singing along and dancing. The set was hit after hit after hit, with "Time To Dance," "The Ballad of Mona Lisa," and "The Only Difference Between Martyrdom and Suicide is Press Coverage" all following. The crowd fed off of Brendon Urie's constant energy, despite the fact that he was sick (something he kept apologizing for, even though he sounded great), and there were no breaks in the action at all that night.
While Too Weird is a "comeback album" of sorts for Panic!, the reaction from the crowd when they played tracks like "Martyrdom," "Camisado," "Lying is the Most Fun…," and "But It's Better If You Do" was unmatched, and I don't think anyone would be too upset if they did a ten year anniversary tour for that widely-adored album. "The End of All Things" was transformed from a slow, beautiful ballad into a powerful song that exploded into a killer solo by current touring guitarist Kenneth Harris. Although Urie had posted on Vine – where he is somewhat of a celebrity – prior to the set that he "wasn't down with the sickness," towards the end of the night it became more apparent that he was struggling. The crowd didn't seem to mind, though, singing louder than ever during "But It's Better If You Do" and Vices and Virtues' closer "Nearly Witches (Ever Since We Met)." Any illness that he was feeling seemed to have disappeared by the time the band came back out for the encore, including their recent single "Girls/Girls/Boys" and kickass covers of "Any Way You Want It" by Journey and "You Shook Me All Night Long" by AC/DC.  Arguably the band's biggest hit, "I Write Sins Not Tragedies," ended what was an outstanding evening of music before the crowd was thrust back into the frozen tundra of Minneapolis.
There are still a few dates left on the "Too Weird Tour," and anyone who managed to snag tickets to the sold-out run should consider themselves lucky — it's an electrifying night of music that will have you loving a bit of nostalgia and introducing you to some great new bands in The Colourist and X Ambassadors.
Tags:
Panic! At The Disco
,
The Colourist
,
X Ambassadors