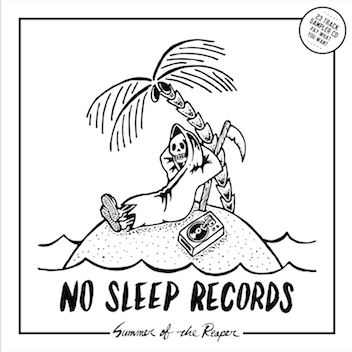 One of my favorite indie labels, No Sleep Records, has just announced their summer sampler  this  year, called  Summer of the Reaper. The record features 23 new and unreleased tracks from the label's roster, including bands like Moose Blood, Anakin, Somos, and Koji. Physical copies will be available for free or pay what you want at No Sleep's tent on Warped Tour as well as with any purchase from their webstore, while supplies last. The compilation will also be available for pay what you want on June 9 at summerofthereaper.com.
Head to  summerofthereaper.com  now to hear a brand new song from Foreign Tongues called "Fools of Love," off their upcoming full-length, and enter to win tickets to Warped Tour so you can rock out with us to several amazing No Sleep artists this summer! The full tracklisting for the summer sampler is below.
Summer of the Reaper  Track List:
01. '68 – Three Is A Crowd
02. Anakin – Artificial
03. Aviator – High Hopes
04. Daisyhead – Lacking Basis
05. Drug Church – Zero Zero
06. Foreign Tongues – Fools Of Love (Unreleased!)
07. Ghost Key – Judgement (New EP Out
June 30th
!)
08. Grey Gordon – Learned Helplessness
09. Have Mercy – Two Years (Acoustic)
10. Hundredth – Free Mind / Open Spirit
11. In Between – Flat Against The Face (Unreleased!)
12. Koji – Fury (New EP Out
June 16th
!)
13. Lee Corey Oswald – Progress
14. Looming – Onward (New Album Out
August 14th
!)
15. Major League – Kaleidoscopes
16. Moose Blood – Chin Up
17. Run Forever – Big Vacation (New 7" Out
July 10th
!)
18. Seasons Change – Valentine
19. Somos – Streets Upon Streets
20. Drew Thomson –
Saturday
Night/
Sunday
Morning
21. Rocky Votolato – White-Knuckles
22. Waster – Graveyard Shift (New EP Out
Sept 4th
!)
23. The Wonder Years – Leavenhouse. 1130.