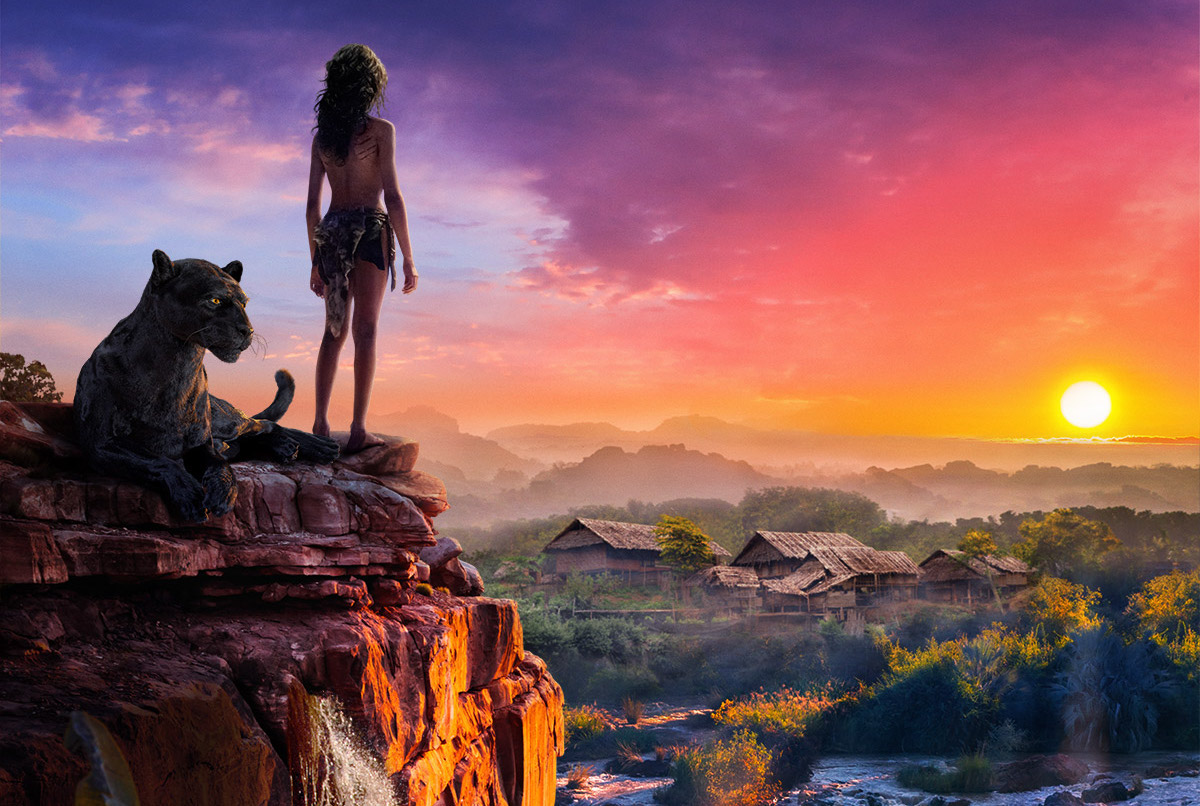 The upcoming Mowgli movie announced by Netflix.
Let's give it up for for Netflix because they know what we all want. They've just announced 17 new original titles from Asia in their first-ever content showcase in the region, "See What's Next: Asia". Seventeen! And the lineup looks incredible.
We'll be getting an anime version of Altered Carbon, written by Dai Sato (the magic behind the likes of Cowboy Bebop and Samurai Champloo). We'll also be treated to a magical new show, set in a war-torn and magic-infused feudal Japan, called Yasuke—created by LeSean Thomas (The Boondocks, Cannon Busters) with music by the legendary Flying Lotus. Lakeith Stanfield will also be voicing the main character!
"Asia is home to the world's great creative centers producing some of the most compelling films and series of today," said Ted Sarandos, Chief Content Officer for Netflix. "The beauty of Netflix is that we can take never-seen before stories from South Korea, Thailand, Japan, India, Taiwan or elsewhere, and easily connect them to people all over Asia and the world."
Keep scrolling for the list of announcements from Netflix and titles coming your way from Japan, Taiwan, Thailand, India, and South Korea and get ready for your next obsession.
Narcos: Mexico Mano a Mano 
Mowgli
Legend of the Jungle launching globally 12/7.
Kingdom
Season 1, and a renewal for Season 2.
BUSTED!
Showrunner Chang Hyukjae announced Lee Seung-gi, from A Korean Odyssey, will be joining the season 2 cast.
Pacific Rim
Returning to the epic battle of Kaiju and Jaegers, this original anime series will expand upon the story of the first two live action movies and follow two siblings – an idealistic teenage boy and his naïve younger sister – who are forced to pilot an abandoned Jaeger across a hostile landscape in a desperate attempt to find their missing parents. Co-showrunners: Craig Kyle (Thor: Ragnarok) and Greg Johnson (X-Men: Evolution). Production Company: Legendary Entertainment (Kong: Skull Island; Pokemon: Detective Pikachu).
Altered Carbon
This anime feature, set in the same universe of the Netflix live-action sci-fi series (second season in production from Skydance Television), will explore new elements of the story mythology. Writer: Dai Sato (Cowboy Bebop, Samurai Champloo) and Tsukasa Kondo. Animation Studio: Anima.
Cagaster of an Insect Cage
Set in a post-apocalyptic world where a mysterious disease "Cagaster" turns people into giant murderous insects, this manga-based series follows the struggle of a young couple to stay alive. Directed By Koichi Chigira (Last Exile, Full Metal Panic!). Animation Studio: Gonzo (Hellsing, Afro Samurai).
Yasuke
In a war-torn feudal Japan of mechs and magic, a retired ronin must take up his sword when he is charged with the task of transporting a mysterious child who dark forces want to eliminate. Created & Directed by LeSean Thomas (The Boondocks, Cannon Busters), who is also serving as Executive Producer. Grammy nominee Flying Lotus will compose the music and be an Executive Producer on the show. Lakeith Stanfield (Atlanta, Sorry to Bother You) will be the voice of the protagonist "Yasuke" (based on the historical samurai of African origin who fought with Oda Nobunaga). Animation Studio: MAPPA (Yuri On Ice, Kakegurui).
Trese
Set in a Manila where the mythical creatures of Philippine folklore live in hiding amongst humans, Alexandra Trese finds herself going head to head with a criminal underworld comprised of malevolent supernatural beings. This anime series is based on the Philippine graphic novel by the same name, created by Budjette Tan and Kajo Baldissimo. Executive Producer: Jay Oliva (Wonder Woman, The Legend of Korra). Produced By: Shanty Harmayn and Tanya Yuson at BASE Entertainment, a studio based in Jakarta and Singapore.
The Stranded เคว้ง
18 year old Kraam survives a devastating tsunami along with thirty-six of his fellow students at an elite private high school on a remote island in the Andaman Sea. As mysterious events start happening on the island, it quickly becomes clear that no one is coming to rescue them and Kraam must lead the students to rescue themselves. Director: Sophon Sakdaphisit. Production companies: GMM Grammy (this will be the first Netflix original series since the GMM Grammy multi-title deal) & H2L Media Group. Executive Producers: Ekachai Uekrongtham, Gary Levinsohn, Steven Sims, Billy Hines, Christian Durso.
Shimmers 
A drama series about five teenagers at an isolated school in Northern Thailand. Over a school break, they find themselves haunted by the ghosts of their pasts, only to discover they are threatened by a much more terrifying mystery. Directors: Wisit Sasanatieng and Sittisiri Mongkolsiri.
Triad Princess 極道千金
A Taiwanese original series. Growing up in the shadow of her Triad father, Angie craves an independent life of her own. Defying her father's wishes, she takes on a gig as an undercover bodyguard for a famous actress at an agency, where she must navigate the unfamiliar world of glitz, glamour and even love. Key Cast: Eugenie Liu and Jasper Liu. Director: Neal Wu; Production Companies: mm2 and Goodfilms Workshop.
Tags:
Altered Carbon
,
Busted
,
Cagaster of an Insect Cage
,
Dai Sato
,
Flying Lotus
,
Kingdom
,
Lakeith Stanfield
,
Mowgli
,
Narcos:Mexico Mano a Mano
,
Netflix
,
pacific rim
,
Shimmers
,
The Stranded
,
Trese
,
Triad Princess
,
Yasuke