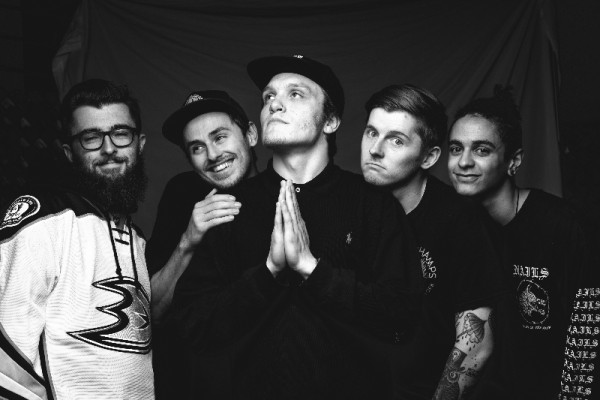 Neck Deep are streaming the first single titled "Can't Kick Up The Roots" from their upcoming album  Life's Not Out To Get You, which is due out August 12th with Hopeless Records.  The album  was produced with Jeremy McKinnon of A Day To Remember and Andrew Wade (The Ghost Inside, Issues, A Day To Remember). Check out the new song below!
Life's Not Out To Get You will be the band's sophomore album, following their widely successful debut  Wishful Thinking. Neck Deep toured relentlessly on that album, traveling across the UK as well as the United States. Fans can catch this band on this summer's Warped Tour as well as at the Slam Dunk  and  Reading and Leeds Festivals.
Vocalist Ben Barlow discusses the meaning behind the song:
"Can't Kick Up The Roots is about my hometown of Wrexham in North Wales. At the time of writing it we had been away for 3 months in America, so home was very much on our minds. On one level it's about how much our hometown sucks – we really don't come from anywhere glamorous, quite the opposite in fact – but by the same token, that's what makes it ours.  Wrexham has the strangest charm, where we kind of take pride in the shittiness around us, and '…Roots' is about our love for where we come from in spite of its flaws. We've travelled all around the world for the past two years, seen some amazing things, and yet we're still super happy to come home to where we grew up."
The album is currently available for pre-order here.
Tags:
Neck Deep