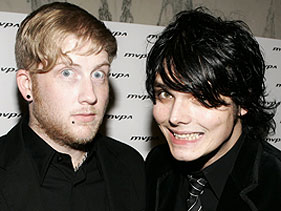 On Wednesday night, My Chemical Romance confirmed what most of  its fans had already been buzzing about for weeks now: Drummer Bob Bryar has left the band.
In a statement posted on MCR's official site, guitarist Frank Iero wrote that "as a band, we have been very fortunate over the years that our sweet times have greatly outweighed the sour ones, and a great deal of that is owed to you, the fans. Which is why we wanted this news to come from us and not some bullsh– gossip site."
"As of 4 weeks ago, My Chemical Romance and Bob Bryar parted ways," the statement continued. "This was a painful decision for all of us to make and was not taken lightly. We wish him the best of luck in his future endeavors and expect you all to do the same."
No reason was given for the split, though according to Notifi Radio and others, Bryar left after "an argument of some sort ensued between [him] and the rest of the band."
Bryar joined My Chem in 2004, replacing original drummer Matt Pelissier, and played on their ambitious The Black Parade album. There's no word on just who will replace  Bryar behind the kit, though it sounds like the band are already moving on: Toro ended the statement by mentioning that the remaining members of MCR were already back at work on the band's  new album.
"We have been writing some very powerful new songs, so this week the four of us entered the studio once again," Toro wrote. "And what has been ending up on tape each night is some of the most exciting and honest work we have ever created."
Tags:
My Chemical Romance