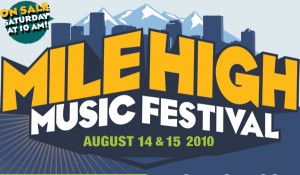 Recently idobi Radio took a trip to the Mile High Music Festival in Commerce City, Colorado to find out how the extreme elevations were affecting everyone. It turns out that music wasn't the only thing in stock at the festival, which seemingly did not live up to its 41-year old precursor. Here's what we found out.
COMMERCE CITY, Colo. — The day began as you might expect it to.
Cool McFly and I were indulging in a pint of the finest, rarest vintage spiced rum that had ever been seen in Commerce City. As we stood at the tailgate of the DeLorean, we couldn't help but notice the mewling of the local color around us. The incessant mewling! Disgusted with our compatriots and satisfied by our intake of spirits, Cool and I began to follow the herds toward the gates ,where it was our impression that we were to be prodded, and then unceremoniously drawn, then quartered by the brutish security at the abattoir, the security which had apparently been untouched by the beauty that was the heavenly choir about them. Cool McFly assured me that he had learned the ancient art of hypnotism from the Druidic cult known to haunt Lyons and the surrounding environs. Hence we were able to trick Cerberus and slip away from the ferryman without having paid our toll.
Safely within the confines of the gladiatorial arena which had been converted for sex rites and other such demonic programs, it occurred to us that we were satisfactorily inebriated. Nevertheless, it became increasingly difficult to fight the constant earthly tremors and minor quakes that made being rather drunk an untenable state of mind. Cool McFly was stinking of sex and complaining about being seen with an ugly, accidental celibate. Convinced that only the fattest whore would suffice to lift the stain of his friend's antisocial ineptitudes, I proceeded to engage a group of foppish, young gentlemanly-looking inter-dimensional warlords in a local variation of the ancient Mayan game of Ulama, colloquially referred to as "hacky sack," in order, Cool said, to better acquaint myself with local customs so that I shant have looked the fool when I found myself in the inevitable sex-cash transactions to come.
Having proved myself far more practiced at Ulama than McFly, Cool immediately engaged in spontaneous, simultaneous copulation with 791 women just to save face. Satisfied that he had proved himself the greater, Cool and I sojourned in search of fresh intoxicants to renew our constitutions. After a gypsy woman convinced me that Budweiser was the finest ale to be sold or bought at this festival, I resigned myself to the corporate piss-water and purchased 12 Dixie cups of the brew for the exorbitant price of my soul. Since I'm not really working at present, this seemed a little steep, but as I felt the wart-riddled woman was psychically undressing me with her black magic eyes, I decided the only way I was going to get my beer was to sleep with the old hag or give her my soul.
So, a few minutes later, cash still in wallet and beers in tow (absent only my immortal soul) and feeling rather rejuvenated, I decided it was time to see one of the rock 'n' roll acts that everyone seems to be talking about ever since that Elvis character shamed himself on The Ed Sullivan Show. Cool and I delineated a course to see the ancient Steve Miller and His Band of Some Repute. The rabble stood about in false tribute to the aged and flaccid demigod who seemed to stumble and grope his way through his own repertoire, seeming not merely disinterested but also nearly asleep. The only person who seemed less engaged in the set than Cool and I was Miller himself. Nevertheless, the crowd swayed and allowed itself to fall into a trance, perhaps more out of veneration than passion. The orgy was half-hearted and forced. Cool, a self-professed Steve Miller fanatic, seemed especially disappointed.
Feeling dejected, we made our way to the stage where Cyprus Hill had already started its set. The energy at this performance was better, perhaps because of the giant 12-foot water pipe imbued with the spirit of the sea demon Leviathan that was making a circuit through the audience. Admittedly, I didn't remember much of the performance itself, but I did recall being convinced that the talented troubadours were still so routinely getting stoned that they didn't realize that at this point in their careers they didn't really need to put so much effort into their performance, and that all they really needed to do, as Steve Miller so eloquently put it, was "take the money and run." Instead, Cyprus Hill managed to seem like it still gave a damn.
Unfortunately, I made the mistake of talking McFly into leaving early so we could move o to the next stage to catch Phoenix's French roadies struggle their mightiest to try and overcome a language barrier between them and the sound board operator for about 20 minutes. Meanwhile, my cool time-traveling friend and I were being harangued by some middle school (high school?) girls who just loved Phoenix. Unconvinced by Phoenix's crooning and the teenage audience's swooning (I couldn't help but wonder how many of those blossoming young women the band would soon be deflowering), Cool and I ditched the flavor of the month and staked out a hill beside the stage to chill where we could chill out and hear Slightly Stoopid, which was managing to sound like every other band that day.
Deciding to forgo the headliner, Jack Johnson, as he sang about how awesome his life was while his pseudo-hippie Greek life fan club lapped at his nicely muscled teat, we walked back to the DeLorean. In a slightly counterintuitive move we engaged the paradoxical wonders of time travel by going back a couple of hours to prevent ourselves from wasting the beautiful afternoon among the crazed masses. The walk back to the vehicle was agony as my balls had become sweaty and chaffed.
Tags:
Mile High Music Festival