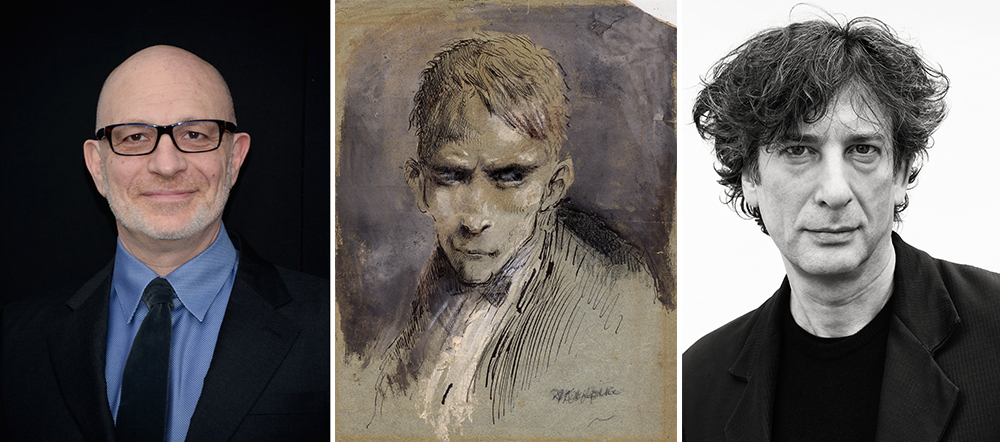 Left to right: Akiva Goldsman, Steerpike, Neil Gaiman. Courtesy of FremantleMedia
An adaptation of Mervyn Peake's gothic fantasy book series, Gormenghast, is in the works. FremantleMedia announced they're turning the 20th century British novels into a TV series, with the likes of Neil Gaiman (American Gods, Coraline) and Akiva Goldsman (A Beautiful Mind, Cinderella Man) attached as executive producers. Barry Spikings (The Deer Hunter, Lone Survivor) and David A. Stern (Howards End, The Last Tycoon) will also executive produce.
"There is nothing in literature like Mervyn Peake's remarkable Gormenghast novels," says Neil Gaiman. "They were crafted by a master, who was also an artist, and they take us to an ancient castle as big as a city, with heroes and villains and people larger than life that are impossible to forget."
The series follows the life of Titus Groan, the 77th Earl of Groan. He's the heir to Gormenghast Castle and its rambling kingdom—provided Steerpike, the scheming yet charismatic kitchen boy, doesn't rise up and take control. The fantasy world brings to life its many colorful inhabitants, and brings magic, pride, and a grand sense of legacy to the characters' many adventures.
Tags:
Akiva Goldsman
,
Barry Spikings
,
David A. Stern
,
fremantlemedia
,
Gormenghast
,
Mervyn Peake
,
Neil Gaiman