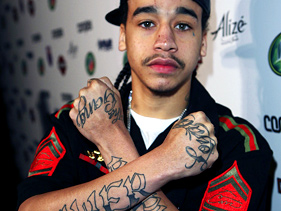 An Atlanta man was charged Wednesday in connection with the murder of rapper Dolla, according to a statement released by the Los Angeles County District Attorney's office.
Aubrey Louise Berry was set to be arraigned in court, where he will answer to two counts of assault with a firearm and one count of murder. Berry, 23, allegedly encountered Dolla (Roderick Burton) in the Beverly Center in Los Angeles and, after a dispute, fatally shot the rapper.
In addition to shooting Burton, 21, Berry's charges stem from allegedly firing at two other people who were present at the time of the altercation.
According to the statement, the shooting took place around 3:00 p.m. on Monday in the parking garage of the popular mall, where Dolla was standing near the entrance. Witnesses said four to five shots rang out at the normally quiet shopping center. The rapper, who had come to the mall to shop, according to the report, was taken to Cedars-Sinai Medical Center, where he died from his injuries.
Berry reportedly fled the crime scene in a Mercedes SUV and was arrested by police later at the airport. When authorities confronted Berry at the Los Angeles International Airport, he allegedly had a gun with him. At press time, Berry's intended destination was unclear.
Berry is being held on $1.1 million bail. If convicted, he faces a maximum of life in prison with the possibility of parole, according to the statement.
Dolla was an up-and-coming rapper signed to Akon's production company, and who had met with success with his T-Pain assisted track "Who the F— Is That." He was working on his debut album, Dolla & A Dream, with reported contributions from Chris Brown, Polow Da Don, Jazze Pha and T-Pain – although it was unclear at press time whether the album had been completed.