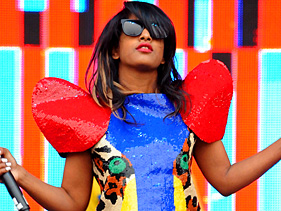 In a move that's sure to delight copy editors everywhere, M.I.A. has announced that her new album will be called ///Y/.
She revealed the title on the official site of her label, N.E.E.T. Recordings, and posted that the album will hit stores on July 13. She also provided a link to the album's official first single, called "XXXO," which was produced by Rusko and Blaqstarr and manages to work in shout-outs to Twitter, iPhones and Quentin Tarantino, among other things.
But back to the album title. The series of slashes actually spells out M.I.A.'s real first name, Maya, which would be in keeping with the titling tradition she's established on her first two records, 2005's Arular (named after her father), and the follow-up, '07's Kala, which is named for her mother.
There's been no official word from either M.I.A. or her label, Interscope, about how to pronounce the title of her new album, and reps had not responded to request for comment.
Of course, choosing a title like ///Y/ is just the latest in a series of decidedly less-than-traditional promotion techniques M.I.A. has employed for her third album.
Tags:
M.I.A.