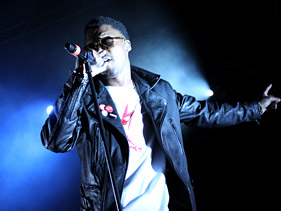 Lupe Fiasco is following his participation in Kenna's trek up Mount Kilimanjaro with a trek of his own: a tour he's announced via LupeFiasco.com.
The jaunt begins in Claremont, California, and comes after the rapper's recent performance in New Zealand, where he introduced new material from his forthcoming LP, We Are Lasers, slated for release later this year.
"This will be the first time we actually performed a lot of the new songs of off the new record, so it's exciting," Fiasco said.
Though there is no single off the new album yet, Fiasco says the LP, the title of which he described as representing "chaos, anarchy, rebelling against the system and individuality," has been completed and submitted to his parent label.
"Lasers [is coming] soon," he said. "It's on my label Atlantic, so they have it, it's finished. I'm just waiting for them to give me a release date to put it out."
And since he's threatened to quit the rap game in the past, the Chicago rapper allayed fears by saying he's got a little bit more juice in him.
"I think the 'Lupe Fiasco' show is almost coming to… the middle," said the rapper. "Everything from here on out will be the grand closing."
In addition, Fiasco says he's working on a book that he'll release under his given name, Wasalu Muhammad Jaco.
"I started as a writer. Since I was a little kid, I've been telling stories. Actually hip-hop has just been an extension of me telling stories, so putting it in a more traditional form as far as a book has always been a part of the plan," he said.
Fiasco will be featured on MTV's "Summit on the Summit: Kilimanjaro" a 90-minute documentary depicting musicians Kenna, Santigold, actors Jessica Biel, Emile Hirsch and Isabel Lucas, and a group of scientists and activists on their journey to the top of the highest peak in Africa. The climb is an effort to raise awareness about the global clean-water crisis. The special airs on March 14 at 9 p.m.
Tags:
Lupe Fiasco