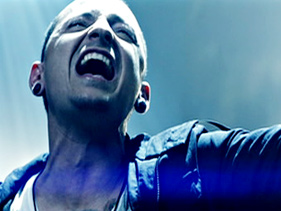 As the world reaches out to assist Haiti with relief in the wake of last week's devastating earthquake, the music world is quickly mobilizing to find ways it can help. Linkin Park's non-profit foundation, Music for Relief, has teamed up with the United Nations Foundation, Habitat for Humanity, and the Dave Matthews Band's BAMA Works organization's Haitian relief effort for a project called Download to Donate for Haiti.
Linkin Park, Peter Gabriel, Kenna, the Dave Matthews Band, Alanis Morissette, Slash, Beth Hart, the All-American Rejects, Enrique Iglesias and Hoobastank contributed previously unreleased songs for the project, and the artwork was helmed by Shepard Fairey – the album is available now from Music for Relief's Web site.
"Our hearts go out to the people of Haiti," Linkin Park's Chester Bennington said in a statement sent to MTV News. "We pray that this initiative provides some relief and support to the survivors and hope we inspire our fans, friends, and families to make donations as well."
Linkin Park's Mike Shinoda produced a forthcoming Lupe Fiasco song that features Kenna for the project, and also also co-produced "Never Let Me Down," a separate track by Kenna that features the beat handiwork of Chad Hugo from the Neptunes.
"We're encouraging people to give what they can," Slash said in a statement. "There's no right or wrong amount. The people of Haiti are in desperate need of food, fresh water, shelter, and medical supplies. Every little bit helps."
The organization's Web site says that 100 percent of funds received will support those affected by the earthquake in Haiti, and that funds will be divided equally among the rapid response efforts of the United Nations Foundation, the long-term,sustainable rebuilding of homes with Habitat for Humanity, and Dave Matthews Band's BAMA Works Haitian relief efforts. Fans can determine how much they want to donate for each download.
Tracks include Linkin Park's "Not Alone," Peter Gabriel's "Make Tomorrow," an acoustic version of Morissette's "Still," "We Are One" by Hoobastank, "The Wind Blows (Skrillex remix)" by the All-American Rejects, "It Must Be Love" by Enrique Iglesias, and a live version of "Typical Situation" by Dave Matthews Band.
Tags:
Dave Matthews Band
,
Haiti
,
Linkin Park
,
The All-American Rejects