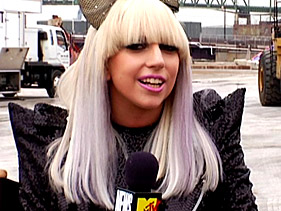 If you think that Lady Gaga has gotten used to being a pop superstar, think again. No one was as surprised as the New York City native herself to see that the Queen of Pop, Madonna, took some time out of her busy schedule to catch the "Poker Face" singer's show at New York's Terminal 5 on Saturday.
"I was very humbled that Madonna came to the show," said Gaga. "And I had been hearing all week that she was going to come, and I was like, 'Oh, OK,' and I didn't want to talk about it or tell anyone 'cause I thought it was kind that she would want to come at all."
What made it even more surprising for Gaga was that she didn't think Madonna had any idea who she was, despite her hit songs and performance on "American Idol" earlier this season. But what really pleased the singer was seeing that Madonna made her concert a family night.
"I was really excited to see that [Madonna's daughter] Lourdes was there, and that made me really happy 'cause during the show I noticed some beautiful spirit of a girl dancing," she recalled. "And I didn't know who it was and I just kept waving to her."
It was not until the set was over that she learned that the girl was Madonna's daughter.
"Then when the show was over, I said, 'Oh, there's this sweet, young girl up there, and she was dancing her pants off.' And someone said, 'Lourdes had green pants on.' And I was like, 'Oh my God, it was Lourdes and she was dancing.' It really got me going. [Madonna's] a good mom, so it's nice."
Gaga will also be happy to hear that the legendary singer slipped out unnoticed. "I was hoping and praying she would get out safely," she said. "If she got spotted, she would have been trampled like the queen she is."