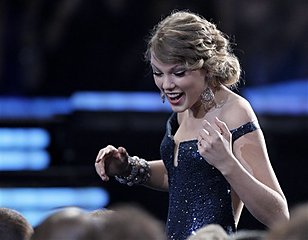 Taylor Swift, victor of album of the year at the 2010 Grammy Awards, is facing increased backlash after a poor performance at Sunday's award show.
As quickly as anyone could say "Fearless," media outlets pounced on Swift's performance.
"To borrow a phrase from Montgomery Burns, it was more 'off-key caterwauling,'" David Malitz of the Washington Post wrote in a blog post.
In a  Washington Post online poll, 42-percent of readers "couldn't believe how bad she was," while another 32-percent "didn't understand how she won album of the year."
Entertainment Weekly was similarly unimpressed.
"There's no doubt that someone was badly off-key." Entertainment Weekly published on its Web site. "I'm afraid my money's on Taylor."
Swift's record label is fired up; its CEO strongly defended his superstar's Grammy-night performance.
"This is not 'American Idol.' This is not a competition of getting up and seeing who can sing the highest note," Big Machine Records CEO Scott Borchetta told the Associated Press in a phone interview. "This is about a true artist and writer and communicator. It's not about that technically perfect performance."
But on Sunday night's Grammy show, Borchetta said Swift had a technical issue that made her worry about her performance.
"We had a volume problem in the ear. She was concerned that she wasn't able to hear everything in the mix," Borchetta said. "That's just part of live TV. You're going to have difficulties on occasion. Unfortunately, on one of the biggest stages, we did have a technical issue. She couldn't hear herself like she had in rehearsal."
The chatter at times overshadowed the four Grammy awards Swift had won, including album of the year.
It's doubtful her fans will abandon Swift anytime soon, judging by positive comments on her Facebook and MySpace pages, or shun the second leg of her sold-out "Fearless" tour, which resumes March 4 in Tampa, Fla.
And with that, Borchetta has a message to all of Swift's critics.
"If you haven't seen her live performance, you're welcome to come out as my guest to a Taylor Swift show and experience the whole thing, because it's amazing," he said. "There's a reason tickets are selling like they are."
Swift's Fearless album has sold over five million copies and was last year's top-selling album.
Tags:
Taylor Swift