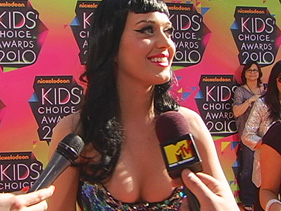 For a while now, Katy Perry has been teasing fans about her upcoming album. And just in case you didn't believe her when she said it would hark back to the days when Ace of Base ruled the roller rink, she assured MTV News this weekend that she's sticking to the plan.
"I'm so excited!" she said on the orange carpet before the Kids' Choice Awards, where Perry was later slimed. "It's so exciting. It's coming out this summer. It's a summer record."
So, what should fans expect from Katy's follow-up to the Grammy-nominated One of the Boys?
"It's what I said I wanted earlier," she said. "We nailed it. It's roller-skating. It's '90s. It's Ace of Base. It's Cyndi Lauper. It's like all these colors and more."
Perry said she's been in the studio with everyone from Rivers Cuomo to hitmakers Dr. Luke and Max Martin for the album. And while it's unclear if she'll be singing about kissing  fiancé Russell Brand and liking it, it does appear that she has some surprise guest appearances in store.
Though she wanted to work with producer Calvin Harris on this record, she said, "We tried to make it happen, but he got really famous so it didn't happen. But there might be some really cool guest appearances by some cool rappers from the West Coast," she added. "I mean, you'll just have to see, since I'm a California girl, you know. And then some best friends might be appearing. … We'll see! It's going to be fun. It's going to be one of those records that is everybody's favorite guilty pleasure."
Tags:
Katy Perry