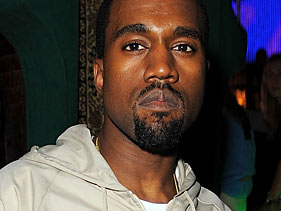 Kanye West might not be able to tell you the complete background of one of his newer artists, Big Sean, but he can see his guy's future. Sean may be the next mainstream hip-hop star coming out of Detroit.
"He put out mixtapes… His story for me was I heard him rap, he killed it and he got signed," West said.
One cannot script Sean's introduction to West any better. Sean took a page right out of fellow Detroit native Eminem's handbook and lost himself in the moment. When he was alerted by a friend that West would be at a local radio station, Sean went to try and get on.
"One summer – it was junior year, going into senior year – I had this weak job," the now 21-year-old explained. "No offense to telemarketers, but I was a telemarketer making $100 a week. I was cashing my check one Saturday, and it was for $100. One of my best friends called and was like, 'Yo, Kanye is down at the radio station. If you go down there and rap for him, he'll sign you.'"
In a rush, Sean left the check-cashing place before getting his bread and had to borrow $20 from another friend for transportation. When the youngster got to the station, he used his relationship with the staff to get close to West. West originally denied him, then told him he had 16 seconds. That turned into 10 minutes.
"Kanye shook my hand and started walking away," Sean remembered. "My friend was like, 'You gotta go for it.' So I tapped him on the shoulder and was like, 'I'm an aspiring MC. I do this show every Friday. Can I rap for you?' He was like, 'No. I gotta go.' I'm like, 'Man, please – you're my hero. Let me rap for you? Just let me spit for you.'"
West softened up and let Sean rap for him as he walked out of the station. "As we get to the entrance of the radio station… we stopped in the middle of the doorway. He starts looking at me and bobbing his head," Sean said.
A nervous Sean kept his head down, looking at the ground so he would not make a mistake. By the time his bars were done, a crowd had formed. He had a moment.
"It was like out of the movies," West remembered. "I could hear his personality and character and style in it. He just walked up to me and said a rap and I said, 'I'mma sign you.' That's what happened."
West said that it was especially remarkable given that he was not looking for emerging talent at the time.
"No, it's not that easy – I'm not really signing acts," he added. "I wasn't signing acts at that time. But I was so inspired by what he did. His voice was very compelling. His lyrics were very clever and the melodies and the way he was putting it together and his story."
After losing contact then getting back in touch, West brought Sean out on the road while he recorded Graduation. Eventually the Louis Vuitton Don signed Sean to G.O.O.D. Music/Def Jam at the end of 2007. Sean turned down a collegiate career at Michigan State (he had graduated high school with a 3.8 grade point average) to pursue rap, realizing he could not do both.
Sean said that working with West has allowed him to learn many valuable lessons since, according to him, West is a perfectionist.
"He told me how to perfect my records and get them how you want them. You gotta prepare yourself. He taught me a lot. I get on tracks with him and I think I hold my own. It's great."
The Uknowbigsean mixtape is the precursor to his album Finally Famous, due later this year.
"It's different things I go through, struggling through different situations – love, heartbreak," Sean said about the content of the tape. "I'm not killing anybody. It's how I feel at the time, at the moment. I wanted to make the soundtrack of peoples' lives. I feel I can really relate to a lot of young people. People who tend to listen to my music have come back and said, 'Yo, this is my anthem. This is what I live by.'"