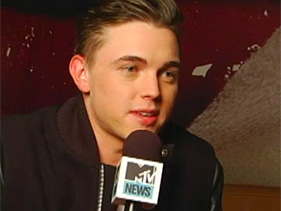 Five years ago, it was a fresh-faced Jesse McCartney who was an MTV Video Music Awards virgin. He was up for Best Pop Video for "Beautiful Soul," and says that even though he didn't win, it was an exciting moment for him in his burgeoning music career.
So, what's Jesse McCartney's advice for this year's VMA newbies?
"Just to go out and have fun, man. It's a really no-pressure environment," he told MTV News. "It's one of the most relaxing and fun awards shows, I think, of every year. You can always anticipate the unexpected. It's going to be a great show and I look forward to seeing it."
McCartney, who is finishing up his next, as-yet-untitled album – he says he's going to reveal the name of the album on Twitter – is gearing up to drop its first single, "Shake," later this month.
The singer is recording in Los Angeles with producers Sean Garrett (Usher, Beyoncé, Jay-Z), Kevin Rudolf (Lil Wayne, Leona Lewis), Young Yonny (Trey Songz) and Ammo, and said the album will have a more urban feel to it.
For now, he'll kick back and watch who's going to bring home the big awards on Sunday night. And yes, he does have his favorites.
"Obviously, Lady Gaga is going to come through and just [clean] house. Usher is back. Dude's back! And he's on top of the world and I love it," McCartney says. "He's one of the greatest R&B singers of the last decades, so kudos to him."
The 27th annual MTV Video Music Awards will be broadcast live from the Nokia Theatre in Los Angeles on Sunday. The party starts with MTV News' VMA Pre-Show at 8 p.m., followed by the main event at 9 p.m. ET. Fans can go to VMA.MTV.com (or text VMA to 97979 if they are Verizon subscribers) to vote for Best New Artist from now through Sunday.
Tags:
video