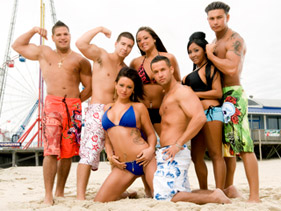 SEASIDE HEIGHTS, N.J. – New Jersey beaches usually don't heat up until Memorial Day.
All that has changed since the emergence of "Jersey Shore," MTV's hit reality show about a group of tanned and gelled kids partying in Seaside Heights.
"Ever since it aired in the beginning of December, the phones have been ringing earlier and more often," Maria Maruca, executive director of the Seaside Heights Business Improvement District, told MTV News. "Now that the show is coming back, we can't even calculate the economic benefit."
That's right, Snooki, the Situation and the rest of the "Jersey Shore" cast are headed back to Seaside Heights for part of season two, and the owners of hotels, restaurants, bars and other businesses in Seaside Heights couldn't be happier. Filming for the first season flew mostly under the radar on a national level, but the town benefitted greatly in terms of hotel stays and catering for the show's cast and crew. Now that the show's a hit, Maruca said Seaside Heights has been busy over the winter and is positioned for an epic summer.
"There's the curiosity factor," she said. "Celebrities draw crowds. That's going to give us an edge that we didn't have before. The exposure that the show brought to Seaside Heights – when every late-night host is talking about Snooki, when Leonardo DiCaprio is talking about the show – we could never have afforded that type of media. This is more than we could ever have asked for."
Maruca hastened to add that the town remains weather-dependent and that sunny skies are hugely important to its financial bottom line. And there are, of course, those who feel the increased exposure comes with negative costs stemming from what some feel are unflattering impressions of both Italian-Americans and Seaside Heights.
"There's always people who see the glass of half empty," Maruca said. "The show isn't about Seaside Heights; the show is about eight individuals. It just happened to be filmed in Seaside Heights. And when you look at Seaside Heights as a backdrop, our beaches look spectacular; our boardwalk, our amusements look great."
An unexpected tourist destination has become the "Jersey Shore" house itself, with folks snapping pictures in front of what Seaside Heights business owners have come to call "the most famous garage door in America." And then there are the bars and clubs, like Karma and Beachcomber Bar and Grill, that were featured on the show and which stand to do big business when the summer season kicks off. Maruca didn't have exact figures for the increase in business over the winter or for what's expected in the coming months, but expectations are running high.
"The anticipation for the summer season has been heightened all around, from the tourism business to the business community," he said. "To see the buzz and the activity is beyond exciting."