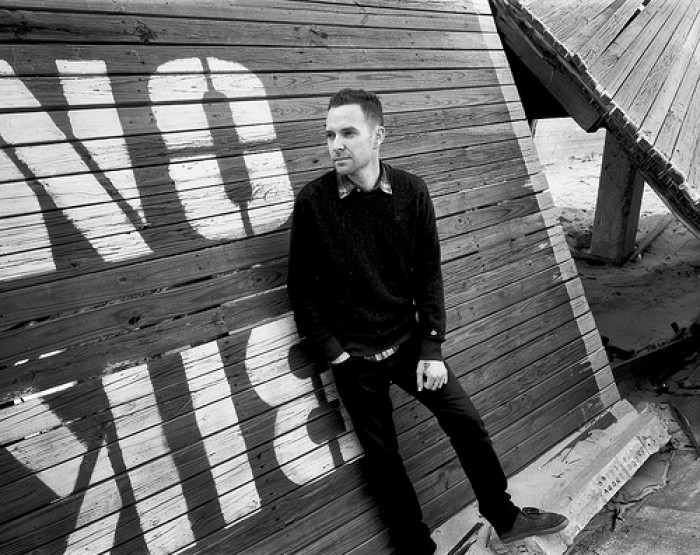 idobi writer Alexa Gallo caught up with Vinnie Caruana at the NYC date of The Acoustic Basement Tour this past weekend. Vinnie talked about his new solo album City By The Sea, how he makes time to juggle multiple bands, his side project Peace'd Out, and what lies ahead for the rest of the year.
Right now you're on the Acoustic Basement Tour, which spawned out of the Acoustic Basement stage at Warped Tour this summer. How does it feel to see it evolve into this?
I'm stoked that it turned into this. To do it in small clubs is the perfect setting for this. Obviously the tent we had on Warped was really rad and very intimate, but to be able to come through like this is great too. We only had our first show last night and it went really well. People were stoked. I'm glad they asked me to do it because there were a lot of artists on it over the summer, so I'm happy to be apart of it. I have my solo record coming out on Tuesday and it just ended up being really great timing. Instead of booking a tour by myself, I got to go out with a bunch of bros.
And this tour is kind of nice because when you tour solo, you tend to just hit up the east and west coasts. Now you get to hit up a few new places with a really great lineup of musicians.
Yeah, there are a lot of new places on this tour where I haven't played solo shows, which is really cool for me. Now I'm starting to get to the point where I've played solo shows in a lot of different parts of the country.
As you mentioned, your first solo album City By The Sea is coming out on Tuesday. How did you decide now was the right time to release it?
It was all scheduling. I Am The Avalanche got finished touring off Avalanche United in July and I started finishing up the writing for this. Avalanche is recording another record in May, so I knew that I had this little window to write, record, and tour.
The title of the album comes from you living in Long Beach, NY. How did that experience incorporate into the theme of the album?
Yeah, that's what they call Long Beach. The visuals for the album I kind of always had in my head and this amazing artist Tom Gilmore executed the art way better than I pictured it. Like, I can think of ideas, but I can never really picture the way it's going to be. Long Beach is where I finished writing the album. I do a lot of writing and thinking and playing music there. I live right by the beach and it's a really nice setting. Those happier songs are from those nice days on the beach where everything's alive and those depressing songs come from days where it's gray and windy and the water's rising up. That's the mix of the vibes that I kind of draw on.
One of the songs on the album that stood out to me is the recorded version of "To Be Dead And In Love". It's been played live for a while, but here there are a lot of new elements on it.
I went into the studio with a producer named Steve Choi (of RX Bandits) who's a really good friend of mine and is really talented. A lot of the songs were just all stripped down and he added some really nice arrangements, some little soundscapes over my songs. It kind of brought them more to life, so it's something more than a guy just playing an acoustic guitar – which is what I'm doing right now on tour, but eventually I would like to have a few musicians be apart of it and execute the way the record is. I mean both ways have their charm, but it would be nice to play the album live with full instrumentation.
Speaking of Steve Choi, you guys are in Peace'd Out together which is different from anything either of you have done before. How did you end up getting involved in that?
Steve called me one day and said, "I'm writing heavy music and I want you to sing," or yell, whatever I do. Obviously I wanted to be apart of it – the dude is one of the best musicians I can think of. I knew it would be nuts and I knew that the music would be crazy. We got to work on it really slowly throughout the years. When his band slowed down and I had little pockets of time, we went to this place called Bright Mountain in California to record it. We went crazy and we have a really cool result.
Are there any plans for Peace'd Out to tour, or are you just going to pursue another record?
Steve's writing now for a follow-up EP and we'll be recording it sometime before the summer. I'm not sure when it will be released yet, but after we do we can start playing shows. Right now we have 11 minutes worth of music, so we couldn't do that. Now that we'll have the two EPs, we'll start planning about taking it out. That music needs to be played live. It's going to be wild.
I Am The Avalanche had a pretty crazy last year and now you're gearing up for the next album. Is there a different thought process going into writing for the band versus solo material, or it just kind of pans out into what it will end up as?
I just write and let it lead me to a place. Sometimes I can envision some of the solo songs being really energetic and full band. I have written songs that I thought were going to be for myself and ended up just giving them to Avalanche. But a lot of the times, I do write specifically. Probably 5 out of the 6 songs on the album were written with solo record in mind.
So after this tour you have a few festivals coming up, including our festival idobi Meltdown where you'll be playing with I Am The Avalanche as well as solo. Are you excited or nervous about that?
I have a lot of work to do that day. I am excited, though! It's going to be great. We actually toured with Minus the Bear and Circa Survive on two separate tours in Australia. I've played shows with Kevin Devine a few times, and then I'm pretty excited to see The Front Bottoms play. There are a lot of musicians we know and respect on that festival.
And what lies ahead for the rest of the year?
In mid-April I'm going over to Europe to play some festivals and club dates. Then we're going to write and record the new Avalanche record, write and record the new Peace'd Out record, and try to be home a few months so that I can enjoy myself.
Vinnie Caruana's new EP City By The Sea is out today on I Surrender/Run For Cover Records; buy the EP on iTunes now!
Tags:
I Am The Avalanche
,
Peace'd Out
,
Vinnie Caruana