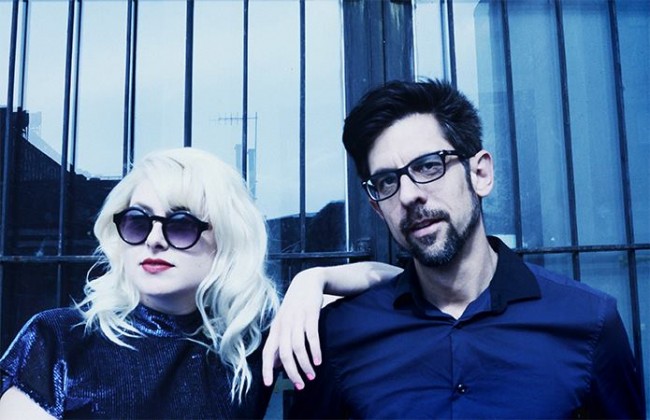 Sleepy Kitty are an indie rock duo based out of St. Louis that are constantly putting a spin on music in new creative ways. idobi writer Alexa Gallo had the chance to sit down with the band during CMJ to discuss the festival, the band's upcoming album Projection Room, and what it's like to have your music synced to a laser light show.
This is the band's second year performing at CMJ. In a festival flooded with dozens of venues and hundreds of bands, it seems pretty easy to get lost and miss out on something great. How do you find the festival to work as a platform for artist development?
Evan: For some bands it's going to whisk by and for some it will be a super big moment. I think for the vast majority of bands it's an event that leads to more interesting things happening across the rest of the year. Getting to know more venues in New York has been useful for us. If you're a band here to play and watch other bands, you're going to be frustrated. If you're just here to do as much as you can as a band and then catch whatever you can, you'll be fine.
Sleepy Kitty has been a band for quite a few years, and you're in a vastly different place then when you started. How has the band been able to evolve since then?
Paige: When we began it was kind of a fun, side project that had nothing to do with even being a band. I think that was a great way to start for us because it allowed us a lot of freedom just to try whatever we wanted to try. I think, as this became our main band, I felt like I need a place to put more conventional song structures and Sleepy Kitty became that place. I also think that after playing for a while, you get more comfortable and can try different things. The beginning of a band always has that unlimited potential; you can do anything you want since there are no expectations. Once you've been a band for a while there's a different way you can do anything you want because you're able to grow together and try things in new ways.
You'll be releasing your sophomore full-length, Projection Room, in January. What was the mindset going into recording the album?
Evan: It kind of went from a trickle to a stream to a creek to a river to a big river. As we were writing we originally just wanted to catch the newest batch of songs. Our label got kind of excited about it, so we decided to keep going. Our label, Euclid Records, is really heavily into releasing vinyl. We were on the border of it being a 10" record, so we might as well go for a 12" record, and that sent us on a voyage of discovery for the next songs. It was a growing torrent. It took long for us to finish from our perspective. It wasn't the final Guns N' Roses album or anything, but it was plenty challenging.
I feel like the band has a bit of a throwback sound going on. Not to pigeon hole you into a movement, but there's sort of a 90s revival going on right now. Do you feel like you are a part of that or do you distance yourselves from it?
Paige: We were actually talking earlier today about how we always liked bands from the 90s. To me it was just like I like Pavement, and 90s pop radio, and 90s alternative.
Evan: And those Guided By Voices albums.
Paige: Yes, Guided By Voices. For us it's just kind of the music we've liked. I think that we're probably a part of that revival. It's not intentional, but it's kind of great. The fact that there are bands like Parquet Courts, Speedy Ortiz, and bands that easily sound like they could be recorded in 1996, but are right now is pretty awesome. I like those bands and I like that we all have similar reference points.
Evan: For me, it's that funny thing of watching something return that I was part of the first time. There's nothing retro, it's more like a through-line. I started playing in 1989, my first band started in 1994 in Seattle. We were very much in the midst of what that sound is and listening to that music. I'm thrilled to see the kind of tuning and song structures that I like and want to listen to. There was kind of a moral structure to the 90s that was a part of the sound that I still adhere to myself and would like to see woven into the music scene more.
I feel like music has spent the last ten years or so trying to figure out format. As major labels disappear, CDs disappear and all that stuff, I don't think anybody's known what to do. I think I'd love to see the the kind of DIY, self reliance from the 90s give a little bit of direction to what bands are doing when they put out an album. I don't think you have to get stressed out about selling out, that was kind of the bummer part of the 90s.
Yea. You could say there's kind of been a shift, currently, from bands trend hopping to being more authentic.
Evan: I think in the 90s you had Sub Pop and Matador and Merge and that gave rise to Barsuk. Those labels built their own comfortable layer between the big monsters and the crushing ants. Now the whole jungle has been turned upside down and I'd like to see that kind of thing happen again. People building in a kind of a sustainability from each other. That's the kind of authenticity I think that applies from the 90s.
Something really unique the band did recently was having your music synced to a laser light show at a Planetarium. I don't think I've heard of any band doing that before, so how did you make that happen?
Paige: One of the early ideas Evan had was to work with a planetarium. We always like to try new things and making new ways to experience music.
Evan: Especially combining visual and musical elements.
Paige: Absolutely. That's the way we started. We were trying to figure out where we can have a listening party for Projection Room. A lot of listening parties usually happen at a bar or a venue and people start talking once the first song is over and stop paying attention. We thought it'd be great to do it at the planetarium and just have people look at the stars and listen to the record. We started looking up planetariums in St. Louis and saw one at a science center that they were doing laser light shows synchronized to music.
Evan: It's like to a mixtape of Led Zeppelin, Pink Floyd, The Beatles, and classic rock like that.
Paige: We decided to go down there and see if we could talk to them. We actually wound up talking to the laserist and the director of the planetarium that day and all of the sudden it was happening. The laserist does all manual work so he was actually performing the show live. For us it was just to the album, so we got to watch it as well and it was just really beautiful and amazing.
Evan: The first laser show I ever saw was Pink Floyd, and I've seen a few. I always thought it was so cool. It's abstract, but it's visual and it's musical and in space. You lay on your back; it's kind of like being at a laser beach or something. I always wanted to do it with Harvey Danger, and my band after that, and then Sleepy Kitty pulled it off. It was everything I wanted it to be and one of the high points of what we've done as a band. It was 200 people lying down at a time doing something they've never done in their lives or only done to Pink Floyd, so it was really awesome.
Do you have any plans to do more laser shows? Take it on the road?
Paige: Yep. After the first one went well, we had requests for another one. The science center was happy too, so we have another one coming up.
Evan: Corey, the laserist choreographed it for a couple of months so he's like "yea we can definitely do it again."
Paige: But yea, every time we're on tour and see there's a planetarium we're like "we can do it there!"
Evan: It's always been a dream of mine to do a planetarium tour or set.
What lies ahead in 2014?
Evan: We'll be doing some national touring, lots of time on the east coast. Then we'll hit the west coast in the Spring. We just want to keep getting the word out on Projection Room, that we're a true two-piece, and see how far we can get. Another goal is to get overseas.
Be sure to get to know Sleepy Kitty by keeping up with them on Facebook and Twitter.
Tags:
CMJ
,
Sleepy Kitty