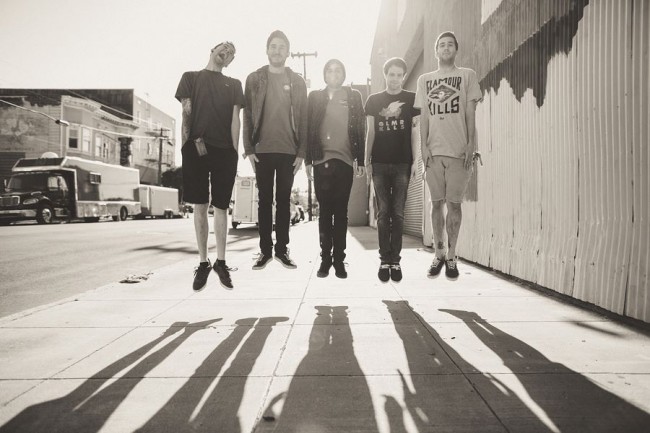 Since the release of their latest EP  Put Yourself Back Together this summer, Real Friends have been touring non-stop. They're currently in the middle of their first coast-to-coast US headliner and idobi writer Catherine Yi caught up with bassist and lyricist Kyle Fasel to discuss constantly being on the road, his songwriting influences, and the coolest fan experience he's ever had.
It feels like you guys exploded in popularity this past year with your two EP's. How has that whole process been for you guys?
I think it's just been more like constant growth in a way. We're still the same band we always were and we're just really grateful for all the growth and we just owe it to all the fans really, so that we can come to places and play cities we've never played before and have kids come out. I think it's just growth and I think we're still growing, and I just hope that it keeps going up.
You guys were on the Vans Warped Tour for the first time this summer. How was that?
It was awesome. We played the first three weeks. It was all like West Coast dates. I think we started on the first date, which was in Seattle, and then we looped all around the West Coast and ended in Indianapolis. So yeah, it was cool. It's like the hardest tour to do though, because it's so hot outside. But it toughened our skin in a way, as a band, and I think it really helped us out. We got to play in front of a lot of kids that hadn't seen us for a while, and new fans as well.
And you guys are playing the UK version too right?
Yeah, we're playing one day in the UK. I think out there they do more of a 2 or 3 day fest type thing. It's not really like in America where they go to every major city. It's pretty cool to be able to play that. We were really honored to be asked to play because there's a lot of awesome bands playing, so we're really stoked for that.
I know you guys played a headlining tour for the second half of summer, and you're on another one now. How does it feel to be headlining all these tours this year?
It's awesome. It's really cool to headline because we're able to play more songs. We went out with Senses Fail in the spring and then we did Warped Tour, and you're only able to play for about 25 minutes, so you have to identify yourself to these kids in a short amount of time. So it was really cool to be able to play for 45 minutes to an hour and get more deep into song meanings or just be funny, like show our personality more. So that's what I enjoy the most about headlining, but I also like supporting too because when you support bands you play in front of new fans.
So how has your current headliner been so far?
It's been amazing, honestly. It's been the best tour we've ever done so far. We didn't really know what to expect because this is our first proper headlining tour, like full US, and it's just been awesome. We've been able to fill a lot of the rooms up, like some of the shows have even sold out. Last night we played at Chain Reaction and it sold out and we'd never played there before, so it's really overwhelming in the best way possible.
I also really like how you guys add a lot of local bands every night.
We don't really have anything to do with that. It's kinda the person putting on the show, but it's been cool because some of the local bands that have played on the shows, we've played with them before. It's a nice surprise when you're like "Oh hey, what's up, I didn't even know you were playing." We played a show in Minnesota and there's this band called Molly's Worst Enemy and they were the local band and they're a really cool band. It's cool too because we get a lot of the younger kids asking for advice, which you think is weird because, I don't know, it just makes me feel old [laughs]. But yeah, it's definitely cool to throw the local bands on there too. I'm almost 25 now, but when I was like 16 playing in bands, if I played with a band I liked it was a really big deal. So it's cool to be able to give that back to someone else many years later.
Speaking of, who were your biggest influences growing up and influencing this band especially?
It's hard to say. When I was growing up, I didn't really listen to a lot of pop punk. I listened to a lot more hardcore, and like heavier type stuff when I was younger. Then I got really into emo music like American Football and Jimmy Eat World and stuff like that. I mean, all those bands influenced me, I guess. I remember when I was younger, there's a band called Thursday, and they put out an album called Full Collapse in 2001 and that was the album that made me want to be in a band. I used to sing in a band when I was younger, it was terrible [laughs]. But that was definitely the band that made me want to do this, like ever since I was about 16 I knew that I wanted to be in a band for real.
You guys have been touring pretty much nonstop this year. How do you avoid getting burnt out?
Well, we just had two months off, which was really cool because I got to go home and actually think about what is happening. In a good way, you know, and not in a big-headed way at all. It was more of like, wow, I'm lucky. You have the time off to actually recognize what's going on and everything. Like every night, to have kids come up to us and say, "Your music's helped me," and stuff like that is awesome. It's not something that I could ever get from a paycheck or from college or anything like that. Also, being around the same five people all the time, we just try our best to give each other space. We're older, we're all in our mid-twenties, so I think we're mature enough to know when to give space and stuff. Like when we get to a show and everything's loaded in and there's time, everyone splits up in a way and no one takes offense to it at all. It's just like everyone does their own thing or goes off in groups. We just try to do things like that, because if you're around the same five people constantly all the time, you start to pick out little things about people and you're like, I don't like that. So just giving space helps and then actually embracing the time off from tour and enjoying it. I love being on the road and I love touring, but I love being home too. I love hanging out with all my friends at home, and my family, and my dog and everything, it's great.
I feel like your fanbase really strongly attaches themselves to your lyrics. I was wondering if you could describe your songwriting and recording process?
I actually write all the lyrics, which a lot of people don't know because I play bass in the band, so they think the singer writes the lyrics. There's three of us in the band that do the main music writing as well and then we bring it to the table with everyone and beef it up a little bit, make it a little more Real Friends-esque I guess. I'll send Dan, our singer, lyrics and he'll put it over the song so that's kinda how all that works. And then lyrically, like you said, kids attach to it. I try my best when I write to keep it more generalized to where people can listen to a song and take it for what they want to. Like someone can listen to one of our songs and say, "When I hear this song I think of this person" or "I think of this time." If I wrote very detailed about everything, I feel like people wouldn't be able to attach to it. Like if I talk about where it happened, what street or whatever, like getting too detailed can hurt you in a way. So I try to keep it more broad and open. Our whole saying with our band is you're never alone. What I try to give to kids is like, you're going through something in life, we go through things too, we're all human beings. No one's a super human. We've all been through things, we'll all go through more things, and it's a "we're all in this together" type of thing. That's the positivity that we try to give to the kids and I think that's why people attach to us lyrically because it's honest and it's just true.
What's it like being the main songwriter and seeing Dan transport that?
It's cool because I've always been a writer but I've never been a singer. Like I sang in bands when I was younger but it was god awful. It was so bad, like I was the kid that sang in a band and all the other band members were too scared to say that I sucked. I realized early on that I'm not a singer but I alway connected with writing. Dave, our guitar player, and I started the band and I just started writing the lyrics too. Like I had songs written for this band even before we had Dan as our singer. So I would just like be like, "Yo, hey I wrote this song." And Dan's contributed minimal lyrics in the past. I'll send him a song and he'll change words around to make it fit so it's definitely a collective effort. But it's cool for me to hear it because it's like he's my voice. It's cool to have a situation that I've been through and I wrote about come to life for me and the fans. It's almost like a fan aspect, you know, even for me. I definitely like it and when he sings it, I feel like it's the nail in the coffin, like that emotion I was trying to get out is there. It's very satisfying for me.
What's one of the coolest fan experiences you guys have ever had?
One of the coolest fan experiences we have ever had…actually right before I left for this tour I got a letter sent to my house. I don't know how the girl got my address but there was this younger girl that sent me a letter. She was from Michigan and she said she saw us at a show and she got really personal in this letter. It was a two page letter saying that she went through all this stuff and got very personal in the letter, like in a way that takes a lot of courage to say some of these things. She said all these negative things and then at the end she says like, "Then I found your music and it made me realize that everything's going to be okay and it really gave me positive light." And then she got kinda detailed with like, "When I hear this song it reminds me of this person," you know, like I stated earlier and it was really cool to see that. Especially because I think it already takes a lot for someone to hear a song, connect to it, and then voice it to other people. But she went as far as like researching to find our address and writing a letter and sending it. She also sent us five friendship bracelets and after I read the letter I put the bracelet on. It's this bracelet here [points to bracelet] and I put it on and said, "You know what, I'm gonna wear this and I'm gonna look at it to remind myself how lucky I am." It was cool because a couple days later, I remember I was driving around and I had a lot going on in my head and I looked at it and it made me feel better. So it's cool to see that I wrote something and helped someone, they stated it to me, and then it comes full circle like it helped me. That's when I see that beauty in art and it's just like, wow, this is awesome. I could never get satisfaction out of money or whatever like this, you know. So that's a really cool fan experience and I look at this bracelet a lot and I like that it's a nice reminder.
What would you say has been your favorite album of the year so far?
Oh boy, that's tough. I would say The Wonder Years' The  Greatest Generation is really good. I think they're a band that has put out three great full-length albums and I think a lot of people sometimes look at that band like, "Oh they're getting so big and blah blah I don't like them anymore," which I think is stupid [laughs]. I'm a man, I'm not a kid. I'm almost 25 so I don't see that anymore. It's nice to have that outlook where if I like a song that everybody likes on the radio or whatever, I don't care. If it's a good song, I would say that album's really good. Also another album I've been listening to a lot is Into It. Over It.'s new album Intersections. It's really, really good. I'm more of an emo guy so I listen to a lot more laid back type of stuff. I don't listen to too much pop punk honestly, so I would say Into It. Over It. really impressed me with the new album and The Wonder Years. Those are two of my top ones for sure.
Do you guys have any plans for your own full-length yet?
Yeah, we're writing for a full-length right now, so we're pretty excited for that. I'm really excited to show people what we've been doing because I feel like there's a lot more depth to our newer music that we've been writing. Just musically and lyrically combined it has a lot more depth and emotion to it, so I'm stoked.
Have you guys started demoing or anything, or still just in the writing process?
We're still in the writing process. We're about seven songs in musically and just starting to dip into vocals. I have the whole album written lyrically. I have like 16 songs written lyrically which is cool – I just realized the other day that I had that many songs written. So yeah, it's still early in the process but we're about to be home for three months after this tour. Well, after this tour we're going to the UK for eight days, and then when we come home we're off for three months so we're gonna hit it super hard with writing. We're probably gonna write almost every day so I'm excited for that, and to really see these songs and things that have happened in my life come back into play in the form of music. I'm stoked.
Any plans on signing to a label?
No, I mean as of today we're independent so that's the way it'll stay for now. I think that record labels are great and I think that they're really good for bands. I think there are certain ones out there that are really helpful, and I think there are ones out there that are really not helpful [laughs]. But I think our band has kinda proven that you don't need a record label, like it's more so about fans. Like no matter what, I don't care if somebody puts a million dollars into a band, if the kids don't like it then it's not going to make any money and it's not gonna be popular at all. So yeah, no record label.
Anything else to say to people reading?
Just thank you for all the support and everything. If you're reading this then hopefully you like Real Friends and without people like you, we wouldn't be able to do this, so thanks.
Tags:
Real Friends