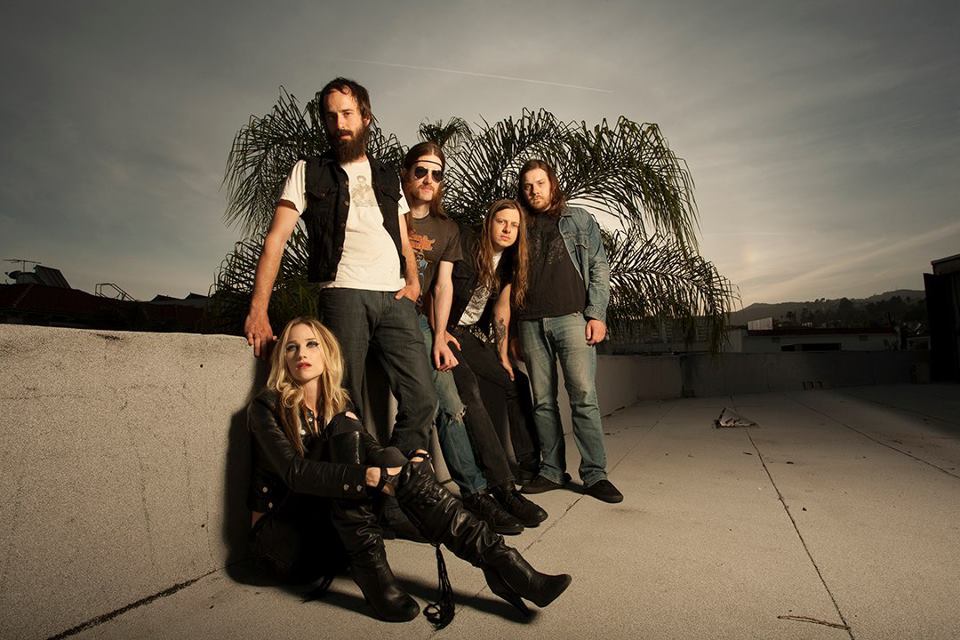 Female-fronted power metal quintet Huntress recently wrapped up a tour with metal titans Testament, Killswitch Engage, and Lamb of God, who they'll be heading to Europe with in the new year. Frontwoman Jill Janus plays hardball and is certainly one of the boys. Classically trained and positively wicked, Janus sat down for some girltalk with idobi writer Alex Rudisill at one of their final dates with such a legendary lineup.
What was it like to work with Lemmy Kilmister on the song, "I Want to F**k You to Death"? How did that collaboration come together?
We met up one night at the Rainbow on the Sunset Strip. We do this when we're both in town. We tend to hang out there and catch up to see what's been going on with each other. I asked him there at the Rainbow if he would write a song for the next Huntress album, Starbound Beast. He said to give him a couple weeks. What are the chances that he's actually gonna come through? I've known Lemmy for a couple years and I do know he's a man of integrity, but I didn't really expect anything. Two weeks past and I get a text that says, "I have your song. It's done." I met up with him at a studio while the new Motorhead album. He hands me two pieces of paper with the lyrics to "I Want To F**k You to Death." The first thing that popped into my head was that this was the most romantic thing a boy has ever done for me. The fact that he really came through for me just shows his character. He's such a man, such a gentlemen. He really delved into the song from my persona, the persona of the Huntress. I can't ask for any more. To me, it's a high-five from the universe.
If you could collaborate with another musician of his caliber, who would it be?
I've actually been thinking a lot about that lately. Honestly, I'd love to do a duet with Randy Blythe. I'd be honored. His vocal ability is stellar. He really inspired me to seek out training to be a metal vocalist. I come from a classical background. I saw him on Melissa Cross's DVD, The Zen of Screaming. That's his vocal coach. When I saw him with Melissa and I saw his journey and his vocal aspirations, how he was really able to sustain the screams night after night without losing his voice anymore through Melissa's help, I became Melissa's student. We are now a little happy family and he's very inspirational to be. He's also sober. I am as well on the road; I'm sober, too. There's only one way to do it. You can't really party on the road if you're gonna end up singing long days when you're doing 30 shows in a row.
You're classically trained in opera and studied at a conservatory. Who are your idols in both opera and classic metal?
In opera, it varies. I would say that there aren't that many operatic idols as more metal because I was striving for [metal] all the time. To me, I've really been influenced by Rob Halford of Judas Priest, King Diamond, Ann Wilson of Heart, and Freddie Mercury of Queen. For opera, I love Maria Callas. I love her approach to opera, especially her attitude; she was a bit of a rebel. Maria's story really rings true to mine. It's bittersweet, but I'd really recommend reading into the story of her life.
Based on your performance, imagery is a crucial part of your set. Is there a prop or act that you've been dying to incorporate into your live show?
Our manager says getting a fucking fog machine! Being the opening act, we're very limited with space. Generally speaking, we have six inches to a foot in front of a ton of backline. There's three legendary metal acts we're playing in front of. This is the way it goes and we're so honored to be here. We're very used to working with very little space. When we headline, we'll probably grow and get bigger with the stage design and props, but it's yet to be determined.
In previous interviews, you've discussed your past and continual participation in covens. How active can you be while touring and working with the band?
When I turned 17, I became a solitary witch. I was no longer part of a coven. I was in a coven from 13 to 17, then when I went off to study music in New York City, I became solitary. This is the way it will be for me, this is my path. I would eventually love one day to be able to be part of a coven again. I've met a few women along this journey that share the same vision with me and I would love to work with them on the arts and the craft. At this point, solitary is the only way.
You've described that your records represent your personal spiritual journey, as the Maiden, the Mother, and the Crone. So Spell Eater as the Maiden, the Mother is Starbound Beast, and your next record will be the Crone. What happens after the Crone? Is the journey over?
It will continue. These first were very pivotal for me: the Maiden, the Mother, and the Crone. Once the third album is done, then comes the fourth, which is the new phase, the Birth. The third album represents the Crone; it's the fifth season, it's the thirteenth month, it's the dying phase. Once that dies, a new phase begins and that's what's so exciting – that I don't know yet. I don't what I'll receive or which direction I'll go yet, but I know without a doubt that i'll be inspired for the fourth record.
Do you think there's pressure on females in metal to be sexy and appealing to a male audience in general? Did you feel pressured when you first started?
That's a bunch of noise. I never listen to that noise. I'm really excited to be one of the only women in metal. I'm surrounded by a bunch of bearded, burly metal men that support, protect, and respect me and I couldn't ask for me. Once you're at this level of touring with bands that have been at this for many years and have shown true, you really realize that the other noise and the trolls and the Internet don't matter at all. We're living for our purpose.
Are there any women in metal, or music, that have inspired you to pursue this as a career?
I don't really listen to female singers other than Anne Wilson of Heart, who I worship. It was really dominated by men because that's all that I wanted to be like. I've always said I've wanted to unsex myself, vocally speaking. I'm not afraid to use sex appeal – I'm a woman and a witch. I understand that I can draw you close to the flame, but once you're there, I'm going to burn you alive with my voice. You've got to have something to back it up. There is one woman I've met recently that kind of changed my perspective on female singers – Doro Pesch. I was able to present her with a legend award for the Metal Hammer Awards earlier this year in London. When I met her, she was absolutely wonderful. She was so humble and even a little bit nervous to receive the award. When I looked in her eyes, I knew that this was all she lived and breathed for 30 years. It kind of kicked my ass. For a woman to be able to sustain a career like this amongst all that adversity, I really truly admire her. That moment I met Doro, she made me realize I should rethink the way I think about women in metal.
What advice would you give to a girl who wants to front a metal band?
Training, straight up. Train your voice. Right now, realize men don't matter. You're going to be married to metal. You don't need to be married to a man, you don't need to have children or a family. All that you need to do is immerse yourself and realize that you're here for one purpose and that is metal. With that comes complete surrender to the road and ditching the female drama. You can't be a diva out here. You're surrounded by men and men trigger very easily when you pull that shit. I would say training is #1 and find a very good vocal coach who can help you sustain those screams. If you can't, you're out.
You're featured on Revolver as one of their "Hottest Chicks in Hard Rock." Do you think fans might argue that it's degrading?
It's for the fans. If they love it, then I'm happy to do.
What's the highlight of your night every night on this tour?
Watching Lamb of God from the wings every night killing it. Chris Adler is one of my favorite drummers and he's become a good friend of ours. Everyone has been really supportive of Huntress. Especially what's so rewarding is to see Randy Blythe up there. Knowing that he went through with the Czech Republic, seeing him up there winning night after night and is victorious. I'm so happy for him and I'm happy for the fans. You can feel and see this immense energy coming from the crowd. It's really exciting, it's life, and I'm so happy to be here and watch them every night. We learn a lot.
Tags:
Huntress