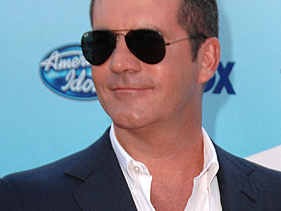 The Fox network is reportedly close to a deal that would keep "American Idol" on television on the air for three more seasons despite the recent announcement from Simon Cowell's brother Tony that the notoriously prickly British judge will leave the talent show at the end of his contract in 2010.
Fox's current deal with the producers of "Idol" runs through the end of 2011, but the network is said to be hashing out a new arrangement that could include three more seasons of the star-making program. Neither "Idol" producers nor Cowell have officially commented on the rumors of the judge's plans to leave the show.
However, Cowell's older brother Tony let slip that the judge does not plan to stay.
"Meanwhile, Simon prepares for a new season of 'Idol,' or should I say, his last season of 'Idol,'" said the elder Cowell. "A press statement is being prepared which will confirm what everybody expected: Simon will leave 'Idol' at the end of 2010 to concentrate on bringing the American version of 'X Factor' to U.S. TV in 2011."
Cowell, who makes $35 million a year to judge "Idol," is reportedly keen to bring his U.K. hit music competition "The X Factor" to the U.S. The show, a huge hit in England, is similar to "Idol," with the added twist of celebrity mentors who coach their protégés. Should Cowell defect, "Idol" would be left with only one of its original three judges, musician/producer Randy Jackson, following the surprise departure of Paula Abdul at the end of the most recent season. Abdul will be replaced by talk-show host Ellen DeGeneres this season, who will sit alongside returning second-year judge, songwriter Kara DioGuardi.
Fox was originally planning to bring "Factor" for the fall of 2010, but delays have pushed it back to a likely 2011 debut. Cowell quitting "Idol" at the end of the upcoming season could give the "Factor" debut added attention. This could be why Fox is considering having him take a smaller role on "Idol" in 2011 – in order to keep the franchise strong.
Tags:
American Idol
,
Simon Cowell