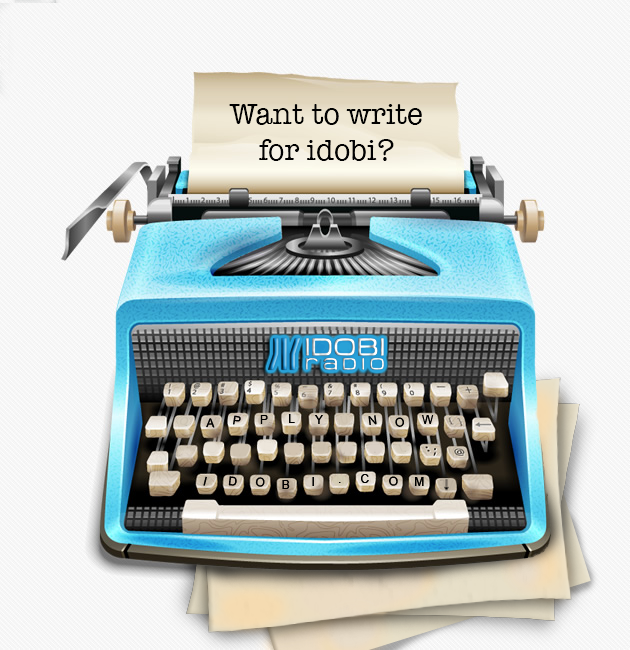 Want to party like a rock star? Well, we're not going to comment on what you do in your spare time… but why not spend that time writing for us instead?
That's right–now's your time to shine. If you're serious about writing and love to explore what music is all about, here's your chance to have your voice heard. We're looking for writers who get a thrill from writing, who have strong opinions, and, most importantly, are not afraid to be original. A wide knowledge of all genres of music and music history is also a huge plus.
You need to be passionate about music and want to work with idobi. We want you to share your ideas as much as possible because you're excited about the industry, and writing itself. Previous experience is preferred, but we're willing to give you a chance if you've got that idobi magic. So if you think you've got a great voice, we want to hear from you.
Writing duties include, but are not limited to:
Pitching and writing day-to-day editorial content as well as columns and in-depth articles, writing album/concert reviews, conducting interviews, and posting news to social media. AND rest assured there's plenty of opportunities to explore our network.
Like what you see? Then here's what you need to send us:
Three samples of work you've written. They don't have to be published anywhere, but they need to show your writing style. They can be reviews, blog posts, interviews, or editorials. Opinions are encouraged. Show us your voice!
Three ideas: one for a topical article,  one feature, and one column.
Three tweets that each tell us in under 140 characters about your love of music, the scene or the lifestyle, and why you want to work with us. Be as creative as possible.
One paragraph each on two topics in the style of our very own Tuesday Tens. Write about the following with your choices:
– A sonically unmistakable artist/band
– "What just happened?!" music video
Please note that these are unpaid positions, but you may be eligible to receive college credit for your work.Internships are online-only if you are outside of the DC area and can be completed from anywhere in the world. Only those whose applications have been accepted will be contacted.
Send an email to [email protected]  and include "idobi Internship Application" and your name in the subject line.
Entries will be open until September 14th, so get typing, and good luck!