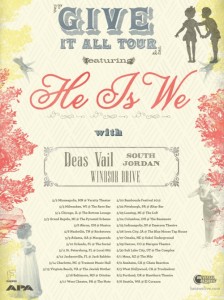 Deas Vail's bright single "Summer Forgets Me" worked well both as my entrance music to the Varsity Theatre and as the band's set opener. With the Minneapolis date of the Give It All Tour off to a good start, the band led straight into the hard-hitting "Towers" and "Pulling Down the Sun." All three tracks are from their latest self-titled record. After the upbeat opening, the Arkansas-based rockers slowed things down with "Shoreline" from their 2007 release All the Houses Look the Same. Wes Blaylock's outstanding falsetto on this song in particular was a stellar example of just how flawless Deas Vail's live performance is. Closing their set with "Meeting in Doorways," the band drove home their musical prowess and left this reviewer wondering just how He Is We might be able to top their performance.
For the first night of the Give It All Tour, most He Is We fans knew things would be different, but nobody was quite sure what to expect. The band had recently announced that singer Rachel Taylor would not be touring with the band as she was recently diagnosed with ankylosing spondylitis and was going to take time off to focus on getting healthy. Fans were incredibly supportive and just a day before the tour kicked off, Stevie Scott was named the band's new touring singer. Trevor Kelly, who provides the male vocals and acoustic guitar for He Is We, made sure that everyone was aware of the situation and that Rachel would receive the gifts that some fans had brought for her. There was a small group of girls wearing "Get Well Soon, Rachel!" shirts, as well as a large card for fans to leave a message for her at the merch table. With the show taking place a few days before the band's public online fallout, there seemed to be nothing but good vibes surrounding the situation that night.
When Scott took the stage at The Varsity, she seemed equally as hesitant as the band's fans, but she gained confidence as the night progressed and put on a great performance. Scott's voice is quite similar to Rachel's, which was a welcome surprise, and she has a fantastic range that fits well with He Is We's music. Her sugary-sweet personality combined with her talent won over the crowd as their high energy could be felt throughout the room that night. Both "And Run" from their 2010 release My Forever and "Radio" from an older demo showcased her powerful voice, but what really sold the audience on her new role as touring vocalist was their partial cover of "We Are Young" by fun. before leading into one of their biggest hits, "All About Us." A staple of He Is We's live show, the song consistently gets better and better with each tour. Scott and Kelly clicked seamlessly despite their short time together and the rest of the touring band meshed with her style well.
Scott made sure that fans knew how thankful she was both to be in her new role and to have such supportive and welcoming fans. Despite her initial hesitation, she rose confidently to the challenge of taking over vocal duties and did a great job keeping up the energy that He Is We have always had in their live show. The night's closers, "All About Us" and "Everything You Do," are some of the cutest songs in the band's repertoire, so if you're looking for a night out on the town with your sweetie, pick up some flowers, take her to the Give It All Tour, and watch her melt in your arms.
Tags:
Deas Vail
,
He is We