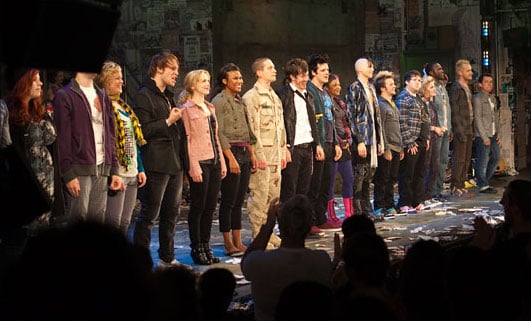 Moments before the opening curtain of "American Idiot," the musical theater debut of the punk band Green Day, a t-shirted house manager took the stage at Berkeley Repertory Theater for the tradition of reminding audience members to turn off their cellphones and unwrap their candies.
This being a musical by Green Day, though, it wasn't your typical curtain speech.
"Are you ready to rock tonight?" shouted the house manager, John Gay. And sure enough, the crowd roared back, "Yeah!"
Such is the rowdy mood surrounding "American Idiot," a rock opera drawn largely from Green Day's multiplatinum 2004 album of the same name and featuring 21 songs from the band's loud and sometimes dirty-mouthed canon. And while the band does not appear in the show, "American Idiot," which formally opened Wednesday night, has already caused considerable buzz because of Green Day's international fame and the show's creative team, mainly several players behind the hit "Spring Awakening," which won the Tony Award for best musical in 2007.
The team for both shows includes the lead producers Ira Pittelman and Tom Hulce, the actor; the set designer Christine Jones; and the director Michael Mayer, who won a Tony for "Spring Awakening" and who sported purple-tinted hair and a black zippered sports jacket on Wednesday night. "It's my punk affectation," Mr. Mayer said.
The similarities don't end there. Both "Spring Awakening" and "American Idiot" tell the story of reckless youth (and all the skin and sin that implies). Both feature rock 'n' roll scores and onstage bands. And both have tapped the talents of John Gallagher Jr., who won a Tony for best featured actor in a musical for "Spring Awakening" and whose nervous parents – folk musicians themselves – attended the opening.
"Two of those songs I can do," said Mr. Gallagher's father, John, who taught his son guitar.
"Yes," said June, Mr. Gallagher's mother. "The slow ones."
The Gallaghers weren't the only ones with jitters. Both Mr. Pittelman and Mr. Hulce were watching the crowd, which included the Broadway power agent George Lane. Several New York theater owners and producers are also expected to see the show in coming weeks.
Green Day's drawing power does not appear to be an issue: the show has set box-office records for Berkeley Rep, which extended the production's run by three weeks, to Nov. 1, even before the first performance.
All of which is heady stuff for the likes of Green Day's frontman, Billie Joe Armstrong, who said – no kidding – that he sang show tunes from musicals like "Gypsy" and "Bye, Bye Birdie" as a boy but "shied away from anybody knowing" once he discovered punk music.
"It's not because I was embarrassed," he said. "I just had new ambitions."
Mr. Armstrong is credited with the show's lyrics and is co-author of the book with Mr. Mayer.
That "American Idiot" would be developed in Berkeley isn't surprising. Green Day cut its teeth in the 1980s playing gigs not far from Berkeley Rep, and since then the theater has become a popular spot for potential Broadway productions, including last year's "Passing Strange."
Still, the sighting of real-life rock stars – including the band's drummer, Tre Cool, and bassist, Mike Dirnt, both of whom came to the show's opening – set off minor hysterics among some in the crowd.
"Did you hear him?" said one breathless young woman after taking a photo of Tre Cool. "He said: Nice to see me again."
Tony Taccone, the theater's artistic director, watched it all with a touch of amazement. "Guys like us always wanted to say we were with the band," said Mr. Taccone, who wore a skinny tie adorned with red sequins. He had turned over both of his company's theaters for the opening-night party and its decorations, with combat boots hung in trees, a "No Stage Diving" sign hung over a makeshift dance floor and free buzz cuts being given to audience members, including a few buzzed by Mr. Armstrong himself.
During the show fans bobbed their heads along with hits from the album, including "Holiday," "Wake Me Up When September Ends" and "Boulevard of Broken Dreams," all of which are woven into a story of three aimless friends seeking meaning through drugs, sex and the military.
No national critics have been permitted to see the production yet, but Karen D'Souza, the theater critic for The San Jose Mercury News, called the production "white-hot" and predicted a longer, more distant life. "If there's any justice in the world," she wrote, "it will head east shortly."
But The Oakland Tribune's music critic, Jim Harrington, was less kind. "It's just big, loud, bland and intended for mass consumption," he wrote, as "prepackaged as Velveeta."
"In other words," he concluded, "it should do big business on Broadway."
For his part Mr. Armstrong, whose early Green Day performances were at 924 Gilman Street, a well-known local performance space, said he'd love to see the show make it to Broadway. But he's not worried if that doesn't happen.
"I think that would be cool," he said of a New York run. "But if it ends up playing Gilman Street, that's cool too."
Tags:
Green Day