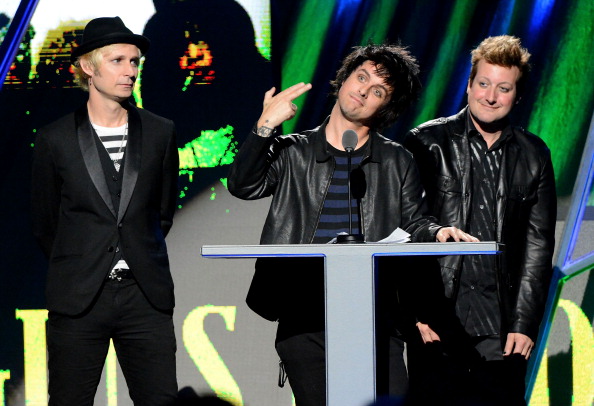 Over the weekend in Cleveland, Green Day joined the likes of The Beatles, The Rolling Stones, Guns N' Roses, and so many more with their induction into the Hall of Fame. This was huge news for Alternative music seeing as Green Day is really the first modern punk band to be inducted. And who better to announce their induction than potential future inductees Fall Out Boy?
The acceptance speeches could have brought any Green Day fan to tears as Tre Cool thanked Fall Out Boy for making him tear up. He went on to also thank his family, friends, made cracks about being a drummer, and the early days of Green Day. "I didn't think back then that we'd be here now, in the Rock and Roll Hall of Fame." He goes onto thank "Green Day Idiot Nation, thank you, we love you." Cool's speech also consisted of a heartfelt moment about how "music is the the force that gets us up in the morning, and it's also the shit that keeps us up at night. We're all in this room together to celebrate music and it's a beautiful thing. It's overwhelming, the amount of talent and love in the room. It's overwhelming."
Mike Dirnt's speech was also tear inducing as he thanked everyone who let them sleep on their floors, his family, his band mate's families, and the Ford motor company for the "Ford Econoline, the best damn van any smelly touring band could have." Beyond that Dirnt went on to thank pretty much everyone ever involved in Green Day's progression including "every one of our fans and the Green Day Nation, this is much more about you guys than it is about me and I'm very proud to share this life on Earth with you." His most tear-inducing moment, though, was when he thanked his bandmates. "Last but not least: to my two brothers behind me onstage here. Believe me, it's been way too many years to want to count. I love you guys, I'll see you at band practice."
However, as usual, Billie Joe stole the show with a speech so punk, tears were black. He thanked each member of his family, and went onto say how grateful he was for Lookout Records, the label they've been on for 20 years, and their two producers, Rob Cavallo and Butch Vig. He also thanked each of his band members personally in their own little mini-speeches. He called Dirnt his "musical soulmate and I love you so much and we've been through everything together, and I thank you for everything — your friendship, your family. I love you." And then called Cool "just phenomenal, and just pushes and he's the most dangerous drummer on the planet." However, the extreme tear up moment was at the end, when Billie Joe closed out his speech saying "You know, I've always loved rock and roll music. I always have. Soon as I opened my eyes and took my first breath, I'm a fan. And that's the one thing that I'm going to close with is that I love rock and roll." All of the speeches can be found in full at RollingStone.com.
And then, in typical Green Day fashion, they went all out with performances of "American Idiot", "When I Come Around", and "Basket Case."
Seeing such a huge modern punk band being inducted into the Rock and Roll Hall of Fame is a dream come true. It validates the musicianship and gives us hope that many more from our scene will follow in their footsteps…
Congratulations, Green Day! We are so proud and so thankful for all of the amazing music you have given us over the years.