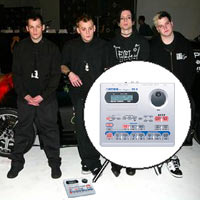 After nearly three years, Good Charlotte has ended their search for a permanent drummer. After the departure of their original drummer, Aaron Escolopio (now playing in Wakefield), Good Charlotte have fielded two touring drummers (Dusty Brill and Chris Wilson), and a host of guest drummers from bands such as The Vandals, Vroom, Mest, and Autopilot Off.
The search is finally over, and Good Charlotte has decided to take a DR-3 Dr. Rhythm drum machine with them on the 2003 Civic Tour with New Found Glory.
"It's a great little machine," said Good Charlotte's guitarist and songwriter, Benji Madden. "I've been using it to lay down beats while writing some new songs for our next album, and I thought 'hey, we could use this on tour!'."
"Plus, we don't have to pay it anything," adds Good Charlotte's vocalist, Joel Madden. "I'll have extra money for Star Wars action figures."
Prompted as to why it has taken so long to find a permanent drummer, Benji said, "We've been looking for a drummer for a long time, and I think Dr. Rhythm is a great addition to our band. It always sounds great and we don't have to worry about it not being nice to our fans."
"Yeah, 'cause our fans are the most important thing to us", adds Joel.
When the other members of the band were asked about their new bandmate, guitarist Billy Martin said, "I'm just glad there's another vegetarian in the band. I know Benji says he's a vegetarian, but I knows he sneaks off at night for a mouthful of sausage – and Tony, that guy from Mest, I know he encourages him."
"I didn't know until you asked me about it," said a surprised Paul Thomas. "I was wondering what that thing was doing on the floor. But whatever. What do I know? I'm just the bass player."
Good Charlotte Hits The Road With New Found Glory For The 2003 Civic Tour On April 8.
April 08 – Grand Forks, ND – Alerus Center
April 09 – Minneapolis, MN – Target Center
April 10 – Chicago, IL – UIC Pavilion
April 11 – Milwaukee, WI – The Rave / Eagles Ballroom
April 12 – Detroit, MI – Cobo Arena
April 13 – Grand Rapids, MI – DeltaPlex
April 15 – Indianapolis, IN – Pepsi Coliseum
April 16 – Dayton, OH – Hara Arena
April 17 – Pittsburgh, PA – Petersen Events Center
April 18 – Cleveland, OH – Tower City Amphitheatre
April 19 – Mississauga, ON – Arrow Hall
April 21 – Hershey, PA – Giant Center
April 22 – Rochester, NY – Blue Cross Arena
April 24 – Worcester, MA – Worcester's Centrum Centre
April 25 – Portland, ME – Cumberland Civic Ctr.
April 26 – Hartford, CT – Hartford Civic Center
April 27 – Loudonville, NY – Siena College
April 30 – Poughkeepsie, NY – James J. McCann Ctr. – Marist Col.
May 01 – Hampton, VA – Hampton Coliseum
May 02 – Philadelphia, PA – First Union Spectrum
May 03 – Holmdel, NJ – P.N.C. Bank Arts Center
May 04 – Fairfax, VA – Patriot Center
May 06 – Charlotte, NC – Cricket Arena
May 07 – Duluth, GA – Arena – Gwinnett Center
May 08 – Greenville, SC – Timmons Arena
May 10 – Sunrise, FL – Office Depot Center
May 11 – Tampa, FL – USF Sun Dome
May 13 – Orlando, FL – TD Waterhouse Centre
May 14 – Birmingham, AL – Boutwell Auditorium
May 15 – New Orleans, LA – State Palace Theatre
May 16 – Houston, TX – Reliant Arena
May 17 – Dallas, TX – Smirnoff Music Centre
May 18 – San Antonio, TX – Sunken Garden Amph.
May 20 – St. Louis, MO – Family Arena
May 21 – Kansas City, MO – City Market
May 22 – Lincoln, NE – Pershing Auditorium
May 23 – Morrison, CO – Red Rocks Amphitheatre
May 26 – Seattle, WA – Seahawk Stadium
May 27 – Portland, OR – Memorial Coliseum
May 28 – Boise, ID – Bank Of America Centre
May 29 – West Valley, UT – E Center
May 30 – Las Vegas, NV – Cox Pavilion
May 31 – San Jose, CA – Event Center Arena
June 01 – Bakersfield, CA – Centennial Garden
June 03 – Mesa, AZ – Mesa Amphitheatre
June 04 – Irvine, CA – Bren Events Center
June 05 – Santa Barbara, CA – Santa Barbara Bowl
June 06 – San Diego, CA – Cox Arena
June 07 – Universal City, CA – Universal Amphitheatre
Tags:
Good Charlotte