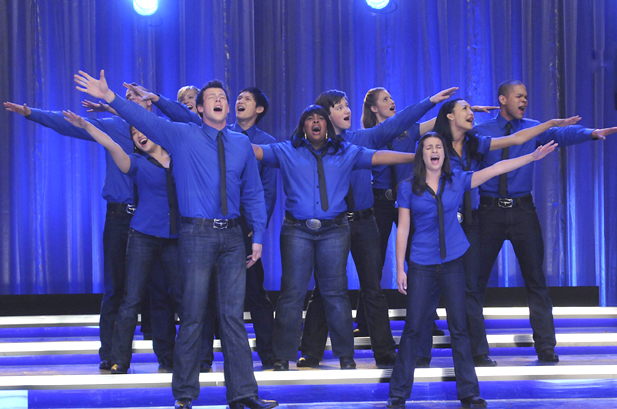 LOS ANGELES – Bust out your disheveled wedding dresses, cone bras and Kabbalah water — Fox's "Glee" will unveil its first episode dedicated entirely to one artist with "The Power of  Madonna" premiering Tuesday evening.
Putting together a weekly television show is a rigorous experience even under normal circumstances, but the all-Madonna-all-the-time tribute came with some extra pressures.
At first, Madonna's camp said no to the usage of her songs in the show, according to "Glee" music supervisor P.J. Bloom.
"With respect, we had gone in cold with little explanation as to what 'Glee' and creator Ryan Murphy's episode plan was," Bloom said. "Once we laid the groundwork, Ryan closed the deal with an amazing appeal in letter form to Madonna, not just as the creator and driving force behind the show but as a true life-long fan."
Madonna and her manager, Guy Oseary, then offered up her catalogue to the show, and the episode was a team effort by Bloom and Heather Guibert on the production side, Wendy Christiansen and Pat Woods at Warner/Chappell, Marlies Dwyer at the law firm Grubman Indursky & Shire and Geoff Bywater, head of the music department at 20th Century Fox Television.
"It took several weeks to hammer out the overall deal," Bloom said. "It wasn't easy, but everyone associated with this unique event wanted to see it happen."
Once that was done, the songs that appear in the show, and on the The Power of Madonna soundtrack that was released Tuesday, were recorded in a matter of days, according to producer Adam Anders.
"We did the music first and then taped the show," Anders said. "I think it's the biggest, best episode of TV maybe ever."
The Power of Madonna will debut on the Billboard 200 albums chart next week, likely behind a No. 1 arrival from AC/DC's Iron Man 2 soundtrack, according to Billboard.
Tags:
Glee
,
Madonna