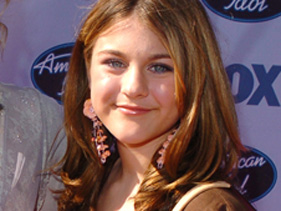 It was probably only a matter of time before Frances Bean Cobain – the daughter of late Nirvana frontman Kurt Cobain and Hole mastermind Courtney Love – dipped her toe into the ocean of the music business.
But she won't be forming a grunge band like her dad or channeling riot grrrl into arena rock like her mom. Rather, her new endeavor sees her providing vocals for a project called Evelyn Evelyn, a concept birthed by Dresden Dolls frontwoman Amanda Palmer and bandmate Jason Webley.
Cobain lends her vocal pipes to a song that also features contributions from the likes of Tegan and Sara, "Weird Al" Yankovic, writer Neil Gaiman (Palmer's fiancé) and My Chemical Romance frontman Gerard Way. Her part is considered a segment of "gang vocals," which probably means you won't be able to discern her voice from anybody else's. The tune is described as an "anthemic '80s power ballad," which is just about the antithesis of what her parents worked on in their respective bands.
The conceit of Evelyn Evelyn, as far as can be gathered from their MySpace page, is that the album is being delivered by a pair of conjoined twins who work in the circus. It will drop on March 30.
The 17 year-old Frances Bean Cobain was last heard from in late 2009 when she filed a restraining order against her mother after Love lost guardianship of the girl. Cobain now lives under the care of her grandmother and aunt, while Love spent most of the end of the year on Facebook ranting about her daughter. After a prolonged absence, Love is finally getting back into the music game as well. She has been playing shows and supposedly has a new album ready to go – perhaps just in time to compete with her daughter's debut.
Tags:
Amanda Palmer
,
Courtney Love
,
Evelyn Evelyn
,
Frances Bean Cobain
,
Kurt Cobain