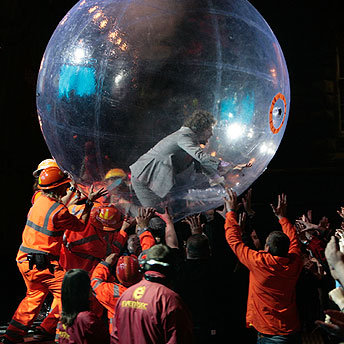 The Flaming Lips will go from spending "Christmas on Mars" to Earth Day in Washington, D.C. when they perform a free concert at the National Mall Apr. 19th.
Additional bands will take the stage in 10 cities nationwide as part of this year's Earth Day Network & Green Apple Festival Day. Joining the "Soft Bulletin"  band in the Nation's Capitol will be moe., Los Lobos, DJ Spooky and emcee Chevy Chase.

The 10-city festival, which "emphasizes environmental volunteerism in solidarity with the new administration's 'call to service,'" is jam band-packed this year, with artists like Galactic playing in Atlanta, Soulive & Friends in Boston, Ivan Neville's Dumpstaphunk in Denver and Deep Banana Blackout at New York City's Bowery Ballroom. Additionally, Cracker will take the stage at Chicago's Metro, the Cary Brothers head to Los Angeles and Travis Tritt & Friends will perform on Austin, Texas Apr. 20th.
Those who can't make it down to the District of Columbia in time for the Lips' performance can stream the festivities from 1 p.m. to 6 p.m. at the Green Apple Festival's MySpace page. Besides coming to the aid of trees around the world, Wayne Coyne and crew will save ears around the world when they release their 12th studio album this summer.
The 2008 Earth Day concert drew 200,000 people to the district.