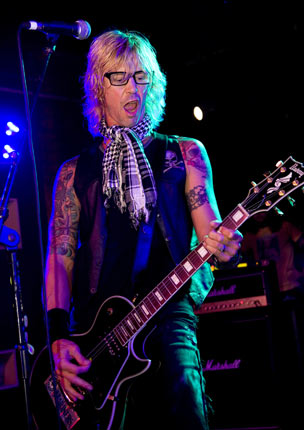 Well, that didn't last long: Just five months after Jane's Addiction announced former Guns N' Roses rocker Duff McKagan as a new member, the band has decided to part ways with the bassist.
"Hey we wanted to thank Duff for helping us write songs for our new record," Jane's Addiction said in an email, Reuters reports. "We love the songs we worked on with him – and the gigs were a blast – but musically we were all headed in different directions. From here Duff is off to work on his own stuff so we wish him all the best."
McKagan was brought on board to briefly perform with the band, and help with new material for an upcoming album – the first in seven years for Jane's Addiction. According to frontman Perry Farrell's Twitter, the bassist has other plans for the future: "Jane's wishes Duff much luck with his band Loaded. What a fun time we all had working together. Look out for his record and tour this fall."
McKagan was the band's fifth bassist since Jane's Addiction's formation in 1985. So who should next occupy the vacated spot? Token?