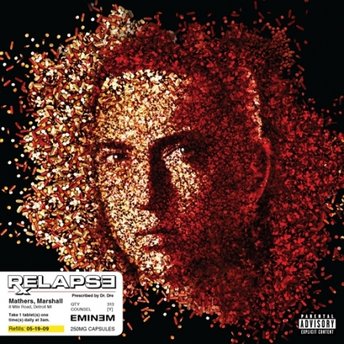 This is evidently the stunning cover of Eminem's Relapse, courtesy of our favorite hip-hop blog Nah Right. The artwork features a portrait of Slim Shady sculpted from pills of assorted shapes, sizes and colors. T.I. utilized a similar technique for his Paper Trail cover, but where Relapse is a mosaic created out of medicine, Paper Trail is a collage composed of ripped-up memos and folded dollar bills.
It might be a little hard to read, but that sticker on the lower-left hand corner of the cover is in fact part of the artwork. It reads "Mathers, Marshall, 8 Mile Road, Detroit, Michigan," "Refills: 5-19-09″ (the album's release date) and, most notably, "Prescribed By Dr. Dre." And for those who maybe worried that maybe Em has lost his edge during his years out of the spotlight – despite his celebrity-bashing "We Made You" – the album notes "Parental Advisory: Explicit Lyrics."
As Rock Daily previously reported, Relapse is the first of two Eminem albums due out this year, giving designers a couple months to figure out how to create a Slim Shady portrait out of syringes and IVs. "Dre and I went back in the studio in September for a few days, and that turned into six months," Eminem said. "We were on such a roll; we wound up with a ton of new music produced by Dre. Putting out Relapse 2 will let everyone get all of the best stuff." Eminem will also perform at the MTV Movie Awards on May 31st.