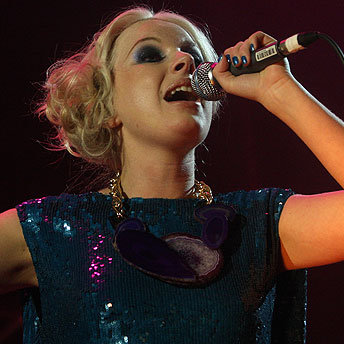 After five years of dormancy, Elektra Records will relaunch with a fresh roster of artists, Atlantic Records announced today in a statement.
French dance duo Justice, Gnarls Barkley's Cee-Lo Green and Little Boots are among the first musicians on the label, which was home to The Doors, The Eagles and Phish in the past.
Mike Caren, who was executive vice president of A&R for Atlantic Records, and John Janick, the founder of Fueled By Ramen, will serve as co-presidents of the new venture.
"Elektra Records will mark its 60th Anniversary in 2010, and it feels like the perfect time to recapture and reignite the spirit which made the label a beacon of great music and eclectic artistry," Janick said in a statement.
Elektra was founded in 1950, and eventually went on to sign acts like the Stooges, MC5 and Love, before merging with Asylum Records in 1972 to bring artists like Tom Waits and The Eagles into the fold. In 2004, after Time Warner sold Warner Music Group, Elektra and Atlantic Records merged, marking the temporary end of the Elektra brand.
Thus far, the biggest acquisition for the Elektra reboot is the second album by Justice, which released its hit 2007 debut with the indie label Ed Banger. Little Boots' Hands, due out next week, finds a WMG distributor in the states after being assigned to WMG's Sixsevenine in the U.K. Cee-Lo, who released his first two solo albums through Arista but is signed to Atlantic for his output with Gnarls Barkley, rounds out the new Elektra roster. Additionally, the label also recently released a soundtrack for the HBO series True Blood.