Whats up Bitch Slapers! Tonight its thursday night! and We dont give a fuck!
Tonight on the show we missed monday night, but were coming back hard tonight. We start with a fun game of how the hell to creep! What this means you'll have to find out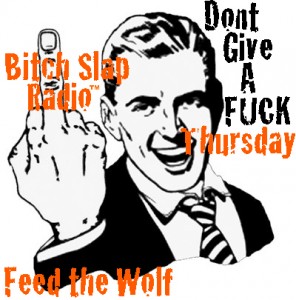 Then on the show we talk about awkward songs to play at awkward moments
Then we talk about what do you do, when people over hear what your talk about…
We got a bad ass show tonight, so bad ass we cant talk about everything, so you'll have to tune in to find out.
We go live tonight at 10:30 Pm Est time on Idobi Radio!
AIM:  Bslapradio
Skype:  LoonaticTV
Twitter:  @BitchSlapRadio
Call In Line:  888-99-IDOBI  (43624)