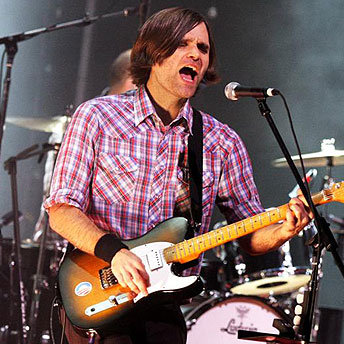 Death Cab for Cutie kicked off its U.S. tour last night with a stop at Philadelphia's Tower Theater, a converted movie house with acoustics ready-made for frontman Ben Gibbard's supernaturally clean and earnest whisper.
Gibbard, recently engaged to fellow indie icon Zooey Deschanel, took the stage after solid performances from opening acts Cold War Kids and Ra Ra Riot and delivered an intimate solo rendition of "I Will Follow You Into the Dark" to a quiet, seated crowd. The rest of the band emerged and hit their stride with "The New Year," a cut off of 2003's "Transatlanticism" that ended the coffeehouse vibe. Bassist Nick Harmer's thick grooves and drummer Jason McGerr's pulsing rhythms pushed the band through "Crooked Teeth" and "Company Calls," with Gibbard a perpetual motion device, rapidly swaying along as he and the band built up speed.
The set list drew from the band's entire catalog – at least one song was played from each of the band's six studio albums. Death Cab dug deep for "President of What," a track from the recently remastered "Something about Airplanes," and introduced a few cuts from their latest "Open Door" EP, including the jaunty "Little Bribes" and the Plans-esque "My Mirror Speaks."
As the set continued, the Seattle foursome stretched out, extending choruses and lengthening instrumental breaks. "Narrow Stairs'" lead single, "I Will Possess Your Heart," featured a four-and-a-half-minute vocal-free introduction. Guitarist Chris Walla showed his chops on a solid solo during "Long Division," which was followed by great versions of "Soul Meets Body," "No Sunlight," and "Marching Bands of Manhattan," bringing the set to an energetic end.
After a long encore break, the band reemerged, slowing things down with the new ballad "A Diamond and a Tether" and a somber "Title and Registration." Gibbard sat at a piano, delivering a hauntingly beautiful "Transatlanticism" that ended the show as intimately as it had begun.
The tour, which had planned to include a headlining spot at the recently canceled Langerado festival, runs through April and picks up again in July with dates throughout the States, including stops at Colorado's Red Rocks Amphitheater with Andrew Bird and the Hollywood Bowl with Tegan and Sara and the New Pornographers.
Death Cab for Cutie Set List:
"I Will Follow You Into the Dark" (Ben Gibbard Solo)
"A Movie Script Ending"
"The New Year"
"Crooked Teeth"
"President of What?"
"My Mirror Speaks"
"Company Calls"
"Title Track"
"Grapevine Fires"
"I Will Possess Your Heart"
"Little Bribes"
"Cath…"
"Long Division"
"Soul Meets Body"
"No Sunlight"
"The Sound of Settling"
"Marching Bands of Manhattan"
Encore:
"A Diamond and a Tether"
"Title and Registration"
"Transatlanticism"