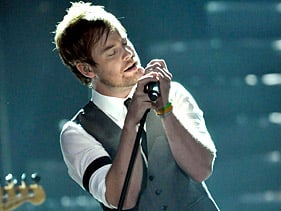 One year after he was crowned "American Idol" champion, David Cook returned to the big blue stage last Wednesday night for charity.
Cook performed a version of his song "Permanent," which was made available on the iTunes Music Store immediately following his appearance, with all proceeds going to Accelerate Brain Trust Cure, a charity dedicated to finding a cure for brain cancer.
It is a cause that hits close to home for Cook, who earlier this month lost his brother Adam to brain cancer after a decade-long battle with the disease.
And that was evident during Cook's "Idol" performance. Wearing a black armband, he closed his eyes tightly while hitting the song's soaring chorus, then at tune's end, embraced "Idol" host Ryan Seacrest and admitted that he was still struggling with the loss of his big brother.
"It's a tough song [to sing]," he told Seacrest, "But at the end of the day, to honor not only my brother, but everybody that has to deal with something like this, you stay the course and you pull strength from everybody else."
Cook then thanked everyone for their support, and – voice wavering – he asked for them to help out the cause and download the song.