The Counting Crows will be doing a special performance at the John Anson Ford Ampitheatre in Los Angeles on Friday, October 1st.  The comedy troupe Broken Lizard (Beerfest, Super Troopers) will also be performing that evening.  The unlikely pairing with lead singer Adam Duritz's Underwater Sunshine Flicks teamed up for the film Freeloaders.
The movie will also be showcased during the evening. The movie is a sort of tongue-in-cheek story about a group of loveable slackers living in the home of their super famous rock star friend…and what happens when they have to move out.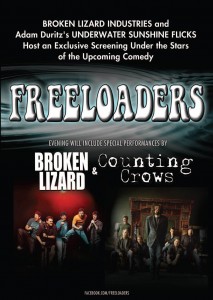 Purchase tickets for 20$ here.
Tags:
Broken Lizard
,
Counting Crows