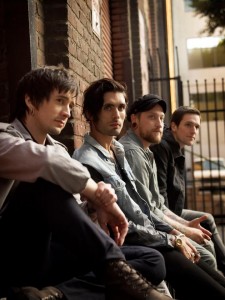 The All-American Rejects are a rock band. This point was punctuated not only by vocalist Tyson Ritter's incredibly charismatic stage presence but by Nick Wheeler's flawless guitar solos, bassist Matt Rubano's bombastic energy as he bounced around the stage, Chris Gaylor's pounding drums, and the amount of fun that guitarist Mike Kennerty looked to be having as well. After disappearing from the scene for a few years after 2008's When the World Comes Down, The All-American Rejects returned to the Metro in Chicago with a vengeance, touring in support of their newest release, Kids in the Street.
A Rocket to the Moon opened the show, playing a solid mix of tracks off their Greetings From EP and the now three-year-old  On Your Side. In addition to a fantastic cover of "Free Fallin'" by Tom Petty, the band also showcased several new tracks from their forthcoming record, which emphasized a bit more of a Southern rock flair. The band recorded the new album in Nashville with Mark Bright, who has worked with both Carrie Underwood and Rascal Flatts, and his influence is definitely noticeable on their new songs.
Launching straight into their 2005 platinum single "Dirty Little Secret" as they took the stage, The All-American Rejects showed us that they're back and they're not to be messed around with. They then transitioned into one of the catchier tracks off Kids in the Street, lead single "Beekeeper's Daughter." From there, AAR played a much, much older song from their catalogue: "My Paper Heart" off their ten-year-old self-titled release. This wasn't the first curveball they'd throw the crowd as they later played "Your Song" and "Swing, Swing" from that album as well.
As frontman Tyson Ritter stalked the stage, it was obvious that he was happy to be back in front of an audience after being away for so long. With the explosive energy throughout AAR's set, the crowd was definitely ready to have the band back too. Ritter and Kennerty slowed things down a bit with a gorgeous acoustic version of Kids in the Street's closer, "I For You," which melted even the strongest hearts in the audience. Then, Ritter and Matt Rubano tag-teamed the bass-heavy intro to "Gonzo" before knocking out two of their biggest songs, "Move Along" and "Gives You Hell" to finish off the set.
The All-American Rejects are back and reinvigorated with the release of Kids in the Street. The band's spring tour is a return to form and – dare I say – an all-American good time.
Tags:
A Rocket To The Moon
,
The All-American Rejects