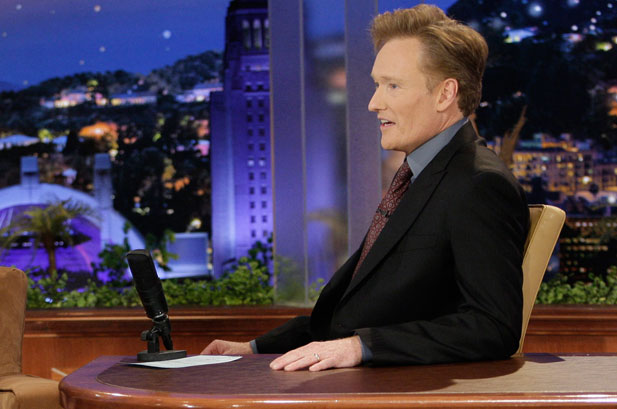 Months after being jettisoned as the host of "The Tonight Show," Conan O'Brien announced Monday that he will join cable channel TBS in November to host a late-night talk show.
"In three months I've gone from network television to Twitter to performing live in theaters, and I'm headed to basic cable," O'Brien says. "My plan is working perfectly."
O'Brien's still-unnamed show will be an hour long and shown Monday through Thursday at 11 p.m. George Lopez's "Lopez Tonight" will be bumped to midnight – but there are apparently no hurt feelings between the two, as Lopez was the one to originally approach O'Brien to join the cable channel.
"I can't think of anything better than doing my show with Conan as my lead-in," Lopez says.
According to TBS, the deal between the channel and O'Brien came together last week.
The announcement comes on the same day as O'Brien starts his "Legally Prohibited from Being Funny on Television Tour" comedy tour in Eugene, Ore.
The combination of O'Brien and Lopez sets up an interesting dynamic for TBS to woo an audience of both young and ethnically diverse viewers. According to Turner, 18 percent of "Lopez Tonight" viewers are Hispanic 18-49, the most of all late-night shows. In addition, the show is first among late night in African-American viewers, who comprise 14 percent of the audience. "Lopez Tonight" debuted last November, and averages about 1 million viewers a night.
Tags:
Conan O'Brien