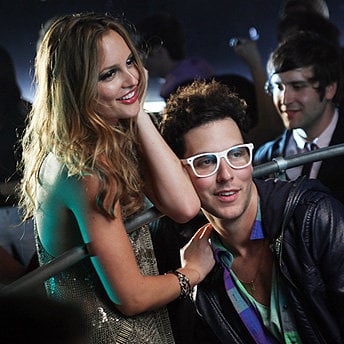 For "Good Girls Go Bad," the first single from Cobra Starship's forthcoming third album, the band did something familiar: immersed themselves in pop culture.
The group known for turning "Snakes on a Plane" from a punchline into a radio hit landed guest vocals from the ultimate good girl with a bad streak – Gossip Girl's Leighton Meester, who plays Blair Waldorf, the show's bitchy queen bee with a loyal heart.
And that's not all – Starship also recruited newbie American Idol judge Kara DioGuardi, who co-wrote Kelly Clarkson's "I Do Not Hook Up," and turned to Gwen Stefani for inspiration.
Frontman Gabe Saporta has never been shy about his appreciation for the No Doubt frontwoman. His version of "Hollaback Boy" got her attention – or at least her lawyers' attention, and that song's cheerleader stomp is back in the bridge of "Good Girls Go Bad" along with a pulsing beat and electro touches.
"For this record, we wanted to try working with different people," Saporta says about Hot Mess, due out August 11th. "We come from a world where everyone is very elitist about music and creativity, and I've made a conscious decision not to be that way," he added.
A self-professed Gossip Girl fanatic, Saporta tells Rock Daily the band sought out Meester after he read rumors about the show's actresses branching out into music on a fansite. The whispers were not untrue – Taylor Momsen's band, The Pretty Reckless, recently made their live debut, and Meester's album is due in the fall.
Saporta said that Meester was eager to sign on to help, especially once she saw the song that Starship had ready for her.
"We thought the song would be perfect for [Meester] because she plays Blair, and she loved the song from the get-go," he said. "We were surprised at how quickly she was like, 'Let's do it!' "
DioGuardi stepped in to help hammer out the lyrics. "After I mentioned 'Good Girls Go Bad,'" Saporta said, "she dropped the hook like it was nothing and we had the song done in 15 minutes… She's like the frosting on the cake that makes everyone like her."
Saporta flew to Los Angeles to record Meester's vocals on a day off from opening on Fall Out Boy's Believers Never Die, Part Deux tour. Given that he sees her as somewhat of an idol, the scene in the studio made for some interesting theater, he said.
"I felt weird directing her on the vocals because she's one of my heroes," Saporta said with a laugh. "I was dancing around, and she's in her booth with candles lit and a totally different vibe thinking 'This kid is a lunatic.'"
Meester met the rest of the Cobras a week later when they shot the song's video, which is slated to premiere in mid-June. In the clip, Meester runs an underground speakeasy and the Cobras work at the sandwich shop above it to ensure only those who order the right meal get access to Meester's hidden world – until she turns them in to the cops.
While working with Meester, Saporta also snagged a listen to songs from her debut album, which he calls "more earnest" than their duet.
"All of my songs are sarcastic, so even the love songs are kind of perverted," Saporta says. "But [Meester]'s are more love songs. This is her first record so I'm sure she's been building up these emotions for five or six years."