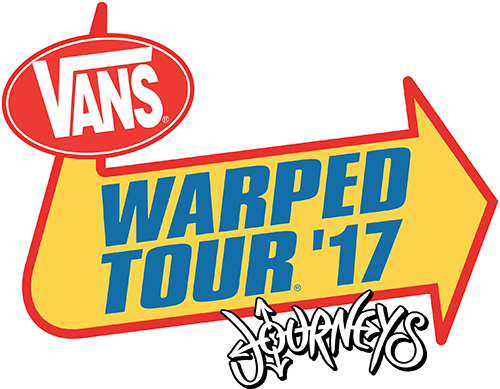 It's almost the most wonderful time of the year! What, no, not Christmas, or Halloween either—it's just about time for the Vans Warped Tour. While we're still a few months out, there's plenty of exciting info coming from the tour very soon, including the complete lineup announcement.
On March 22nd at 6pm ET (mark those calendars), the Warped Tour will go live from Full Sail University. Not only will they be announcing this summer's Warped warriors, we'll also be treated to performances from some of the acts. Tickets for the tour go on sale earlier the same day, and let's face it, you don't even have to know who's playing to want to make it to the legendary summer-long festival. Early buyers also get some cool perks; the first 500 tickets of each show will be sold at the lowest price point, and include a digital download of this year's Official Vans Warped Tour Compilation CD.
Don't forget to join us and stream the event at vanswarpedtour.com on March 22nd. You can also check it out in person, when you score free tickets to the Announcement Event at this link. That way, we can fangirl together over all the great sets awaiting us this summer.
Tickets for Warped Tour 2017 go on sale March 22, 10am local time at vanswarpedtour.com.
—
Vans Warped Tour Dates
vanswarpedtour.com
6.16 – SEATTLE, WA                      7.06 – CHARLOTTE, NC                      7.21 – AUBURN HILLS, MI
6.17 – SALEM, OR                          7.07 – CAMDEN, NJ                             7.21 – AUBURN HILLS, MI
6.21 – ALBUQUERQUE, NM          7.08 – WANTAGH, NY                          7.22 – TINLEY PARK, IL
6.22 – PHOENIX, AZ                      7.09 – HARTFORD, CT                         7.23 – SHAKOPEE, MN
6.23 – LAS VEGAS, NV                  7.10 – SCRANTON, PA                        7.24 – MILWAUKEE, WI
6.24 – SALT LAKE CITY, UT       7.11 – VIRGINIA BEACH, VA           7.26 – MARYLAND HEIGHTS, MO
6.25 – DENVER, CO                       7.12 – MANSFIELD, MA                       7.27 – BONNER SPRINGS, KS
6.27 – NASHVILLE, TN                   7.13 – DARIEN CENTER, NY              7.28 – DALLAS, TX
6.28 – NEW ORLEANS, LA             7.14 – BURGETTSTOWN, PA             7.29 – SAN ANTONIO, TX
6.29 – ATLANTA, GA                       7.15 – HOLMDEL, NJ                           7.30 – HOUSTON, TX
6.30 – ORLANDO, FL                      7.16 – COLUMBIA, MD                         8.01 – LAS CRUCES, NM
7.01 – ST. PETERSBURG, FL         7.18 – CUYAHOGA FALLS, OH            8.04 – MOUNTAIN VIEW, CA
7.02 – WEST PALM BEACH, FL      7.19 – CINCINNATI, OH                       8.05 – SAN DIEGO, CA
7.04 – WILMINGTON, NC                7.20 – NOBLESVILLE, IN                     8.06 – POMONA, CA
Tags:
Full Sail University
,
Line-Up Announcement
,
vans warped tour