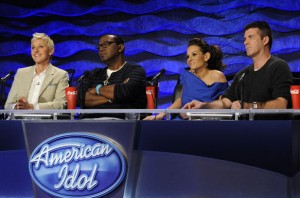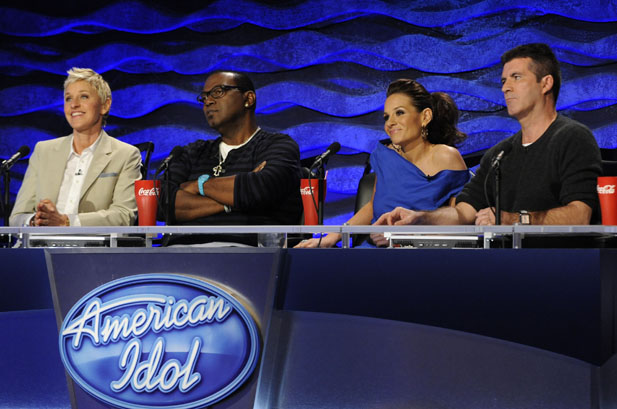 "American Idol" ratings are at their lowest since 2004, and Simon Cowell is moving on. As the season-nine finale approaches, a central question on many minds remains about the behemoth talent show: Can it stay dominant and turn its winners into stars again?
Since its Jan. 12 premiere on Fox, the ninth season of "Idol" has been plagued with chatter about the show's decline. The pool of contestants was widely considered to be the weakest in the show's vaunted history, with the top 10 finalists comprising a bizarre mix of pop/R&B singers with identity crises and guitar-strumming "street busker" types, as Simon Cowell likes to call them. The remaining two hopefuls — Lee DeWyze and Crystal Bowersox — are both of the latter strain, and one will emerge as the winner on the May 26 season finale.
The fractured chemistry among the judges has also dominated water-cooler talk.  Paula Abdul — the show's centripetal force of schmaltz and drama — left the show, ostensibly to be replaced by Ellen DeGeneres. Moreover, two days before the season premiere, Cowell announced he'd be leaving "Idol" after the conclusion of season nine, and many onlookers have observed that he has appeared disinterested this year, even bored. (Cowell stands to make millions more next fall when "The X Factor," the fork-tongued U.K. counterpart to "Idol" that he produces, hits U.S. shores on Fox.)
"Everyone is trying, but it's just not connecting," said Maura Johnston, who writes about "Idol" for  Fancast.com. "And Simon Cowell is so linked with the whole franchise. He is 'American Idol,' more than host Ryan Seacrest, more than anyone. The fact that he's leaving, I think, has affected the perception of the show."
As the curtain falls on the show's ninth year this week, "Idol" finds itself at a critical juncture amid an overall decline in network viewership, a cast in disarray and a worrisome drop in its own ratings. Though "Idol" is still the top-rated show on TV through May 9, its viewership has slipped to an average of 24.5 million per night, according to Nielsen, with 11.8 million of those viewers between the ages of 18 and 49. That's an approximate 20 percent decline from the show's highest average of 30.6 million viewers (16.3 million aged 18-49) in 2006.
That was the year the ratings slide began. Fox's overall prime-time viewership from 2006 through 2009 fell only 8.25 percent, according to Nielsen — but more troubling is the lack of a late-season ratings bounce this year. The May 5 episode drew just 17.5 million viewers, the lowest rating for a Tuesday performance night since the summer of 2002. The May 17 top-three performance night fared slightly better, with 18.3 million viewers, but decreased one-tenth of a point to a 6.6 rating among adults 18-49.
This is also translating to less viewer participation — a factor of vital importance to a show that depends on crowd sourcing to choose America's next pop star. During the May 19 results show, Seacrest announced that the top three contestants had received a total of 47 million votes, down from 88 million at the same point last season. Websites that cover "Idol" — from its official Internet presence at  AmericanIdol.com to vote forecaster Dial Idol and blogs like Vote for the Worst,  Rickey.org and  MJsBigBlog.com — have seen their cumulative unique visits per month drop 45 percent since 2007, according to comScore.
All this downward momentum could have an adverse affect on 19 Recordings and Sony, which together sign the most valued "Idol" contestants to record deals and release their music. If 19 and Sony stick to the release schedule for "Idol" winners of past years, fans can expect to hear a debut single from the champion and perhaps the runner-up, by October followed by an album release later in the fourth quarter.
Ever since  Kelly Clarkson was crowned its inaugural champion in 2002, "Idol" has been a significant driver of album and single sales for Sony. According to Nielsen SoundScan, contestants have sold an astounding 126.5 million combined albums, singles and download tracks, but no winner or finalist since 2005 victor  Carrie Underwood has come close to Clarkson's walloping numbers. (The country artist's album sales total 11.6 million.) While 2006 fourth-place finisher Chris Daughtry's band Daughtry has sold 5.7 million albums, subsequent winners  Jordin Sparks and  David Cook have each sold 1.3 million; runners-up  Adam Lambert and  David Archuleta have sold 747,000 and 970,000, respectively; and last year's victor  Kris Allen has sold 310,000. Both Bowersox and DeWyze hew closer to Allen than other recent "Idol" success stories in that they don't appear to have the outsized personas or ambition required of most stars who captivate arena-sized crowds.
"Every season is different," RCA Music Group executive Tom Corson says. "Yes, some seasons are a little stronger than others. One season you have Taylor Hicks, the next you have Carrie Underwood. We often don't know until six to nine months down the road how the contestants will resonate."
STILL NO. 1
All hand-wringing aside, "Idol" is still No. 1 in the ratings and still commands the highest ad rate of any program, which Fox executives pointed out during the network's May 16 upfront presentation in New York.
"We're aware the show is off about 9 percent this year, but in comparison to other shows that's actually pretty good," Fox entertainment chairman Peter Rice said. The network also announced that it would trim the show's elimination episodes down to 30 minutes for season 10.
"The audience wants us to tighten up the results show and they want more performances, so that's what we'll give them next year," Rice said.
"Idol" also continues to provide a powerful sales boost to artists who appear on the show.  Sean "Diddy" Combs performed "Hello Good Morning," his current single with Dirty Money, on the March 31 results show a day after the track's digital release. It subsequently sold 81,000 downloads, according to Nielsen SoundScan, to debut at No. 34 on the Billboard Hot 100. Shania Twain's "Greatest Hits" set returned to the Billboard 200 with 7,000 copies, according to SoundScan, after she mentored country week. When Harry Connick Jr. served as mentor during Frank Sinatra week, sales of his "Your Songs" album jumped 531 percent to reenter the Billboard 200 at No. 58, while Sinatra's hits compilations "Nothing but the Best" and "Classic Sinatra" reentered at Nos. 129 and 194, respectively.
Season eight runner-up Lambert mentored the contestants during Elvis Presley week, and as a result he earned his first top 10 hit on the Hot 100. Performed on the April 14 results show, Lambert's "Whataya Want From Me" doubled its download sales the following week to 108,000, according to SoundScan. That was  enough for it to earn the week's Digital Gainer award.
Lambert's stint was also notable in that it was the first time an "Idol" contestant returned to the show as a mentor. The choice to have him in that role suggests that "Idol" now treats its more successful runners-up with as much deference as its winners, if not more. For Fancast's Johnston, this is emblematic of a larger trend at the show.
"[There's a] perception of winning not really being important," Johnston said. "The whole message of having Adam Lambert be the first contestant to come back and be a mentor was sort of curious. It's like, 'Well, is the goal winning, or is it just making a splash on TV?'"
Tags:
American Idol
,
Simon Cowell