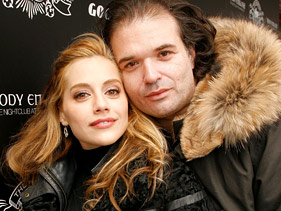 On Thursday morning, Brittany Murphy's family, friends, and fans got some degree of closure as they learned the reasons behind her shocking death on Dec. 20. Now her husband is reacting to the coroner's belief that Murphy's death could have been prevented – and speaking out about the tragedy that left him "ridiculously upset."
"Everything [surprised me and Brittany's mom about the report]," screenwriter Simon Monjack told People magazine. "I expected [the cause of death] to be her heart."
Nearly eight weeks after her death, the Los Angeles County Coroner's office released the results of its investigation on Feb.4, ruling that the  actress had died of pneumonia complicated by an iron deficiency, anemia, and multiple drug intoxication. The death was ruled an accident.
Insisting that Murphy was "not that ill" the day she died, her husband told the magazine that everything seemed normal. "She wasn't coughing up. I've had pneumonia and coughed up handfuls of spittle. So yeah, everything surprised us, everything."
Commenting on the coroner's assertion that Murphy's death might have been avoided if she'd only gone to see a doctor, Monjack refused to speculate. "I don't know what he said so I don't want to comment on what I haven't seen," he explained, adding that as far as he was concerned it was "case closed" on his wife.
"As the coroner said," he explained, "there's no foul play."
Some have expressed a belief that Monjack himself should be investigated for Murphy's death, but the coroner quickly dismissed any such talk. "He was never considered a suspect," coroner's Assistant Chief Ed Winter told the magazine. "No one's criminally liable here, because this has been ruled an accident."
Tags:
Brittany Murphy