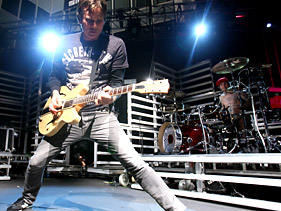 HOLLYWOOD – It had been four and a half years since Blink-182 performed together on a stage. A December 2004 gig in Dublin, Ireland was the last time, to be exact. Well, now it's been not even a week.
Last Thursday night, the reunited Blink returned to the stage at a T-Mobile party at the Paramount Studios, ripping through a surprise three-song set before an audience of stunned (and thoroughly hyperventilating) guests.
Blink tore through "The Rock Show," "Feeling This" and "Dammit," showing no signs of rust or any ill effects of their sometimes contentious breakup as they laughed, struck rock-star poses and cracked jokes.
"This is our first show after hating each other's guts," guitarist/singer Tom DeLonge announced after "The Rock Show," to the delight of all in attendance.
The surprise Blink show capped off a night that also featured performances by Weezer – who will share the bill with Blink and Fall Out Boy on tour this summer – and Blink drummer Travis Barker's side project, TRVS

/DJ-AM. Barker, ever the iron man, didn't even leave his kit after his hourlong set with DJ AM, drumming right into the Blink performance.
Blink's Mark Hoppus has already posted several pictures from the party on his blog, and wrote about his reactions to returning to the stage. Hint: He felt good.
"To be honest, it was one of the best nights of my life," he said.