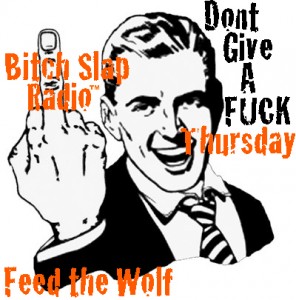 Its Thursday, and we dont give a Fuck!
Thats right Bitch Slap fans its backkkk sure we did go away for long but its another thursday night, and we still dont GIVE A FUCK!
Tune in tonight live at 10:30 pm est time on  Idobi Radio, and hear the bitch slap crew back again for another crazy ass thursday night of stripers, midgets, and who knows maybe even some fruit fucking?
All this and more, live tonight!
AIM:  Bslapradio
Skype:  LoonaticTV
Twitter:  @BitchSlapRadio
Call In Line:  888-99-IDOBI  (43624)