Ashlee Simpson and Fall Out Boy bassist Pete Wentz got married Saturday night (May 17) in an intimate ceremony.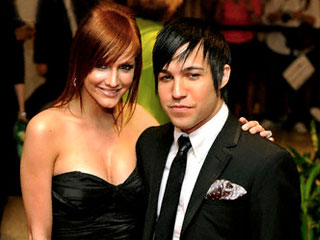 "We're delighted to confirm that Pete Wentz and Ashlee Simpson were married this evening in front of family and close friends," the spokesperson told the mag on Saturday, when the couple reportedly exchanged vows in front of 150 guests at her parents' Los Angeles-area home. People's report also apparently confirmed Ashlee's long-rumored pregnancy, stating Simpson is "pregnant with the couple's first child."
Although Wentz told MTV News via e-mail, "Blah, I got nothing," when asked if he were getting married this weekend, reports about a rehearsal dinner and pre-wedding parties started pouring in last week.
Wentz might have been addressing his now-wife in a Wednesday post on his Web site, FriendsOrEnemies.com. "In weird ways i am so different – not in any that can be told from a wrinkle or smile line," Wentz wrote. "A little worse for wear. But you have made me a better person and given me the adventure of my life."
Wentz and Simpson first started dating in late 2006, though both initially denied that they were doing so. It wasn't until mid-2007 that they acknowledged the relationship, when Wentz gushed to In Touch magazine that "I have never met somebody who makes me feel the way she makes me feel."
Rumors began to circulate early this year that the couple had gotten engaged, when Simpson was photographed sporting a large ring (she later revealed that it was simply a promise ring). Then in April, they surprised pretty much everyone by announcing – via a post on FriendsOrEnemies.com – that they were, in fact, engaged.
"We know there has been a lot of speculation recently about Pete and I," Simpson and Wentz wrote in the joint statement. "Yes, we are thrilled to share that we are happily engaged.
"Of course, within a week of that announcement, several celebrity gossip sites began reporting that the reason the couple got engaged so suddenly was because Simpson was pregnant, though in an e-mail to MTV News, Wentz denied those reports, calling the whole thing "a witch hunt."
The bride wore a wedding dress by Monique Lhuillier and a diamond necklace and earrings by Neil Lane, the magazine said. The reception featured a wedding cake piled high with a top hat, tea pot, stop watch and a pot of flowers on top.
Dad Joe Simpson performed the non-denominational ceremony, while sister Jessica served as maid of honor. Wentz's English bulldog, Hemingway, was the ring-bearer. Guests included Jessica's boyfriend, Dallas Cowboys quarterback Tony Romo, Nicole Richie and Joel Madden, as well as actor Donald Faison with girlfriend CaCee Cobb.