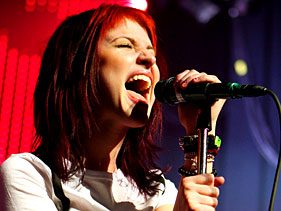 I'm about to make a fairly simple comparison seem unnecessarily complex, but the situation demands it. So here it goes: Paramore are the new No Doubt.
To do this to any other way would be lazy, not to mention a tad bit insulting. But in this case, there is one glaring similarity between both bands: the dynamic, iconic frontwoman who also doubles as the media focal point. In essence, Hayley Williams and Gwen Stefani are covered the same and contextualized the same. Yes, they're both pretty girls with dye jobs who are showing the guys how it's done and are frequently moved to the front during photo shoots.
But the similarities between Paramore and No Doubt go a lot deeper than that.
Both released debut albums that did not exactly set the world on fire but hinted at things to come: No Doubt's self-titled 1992 debut was full of breezy ska-tinged pop that seemed out of step with the gnarled grunge that gripped the charts at the time. Paramore's All We Know Is Falling was packed with wailers like "Emergency" and "Pressure" – tunes that bristled not just with punky energy, but Williams' unique (read: feminine) take on love and relationships – but fans were too enamored with Pete Wentz's Sidekick pics and My Chemical Romance's theatrics to care much. In both acts, things would change with the next album, for reasons not abundantly clear to anyone.
Because neither No Doubt nor Paramore changed things up that drastically on their breakthrough efforts, it just seemed that the industry finally caught up with them. Tragic Kingdom was massive. It sold more than 16 million copies worldwide and put Stefani (and the relationships she sung about on songs like "Don't Speak") front and center. Riot! has only gone platinum, but the effect it had on Williams – and the relationships she wrote about on tunes like "CrushCrushCrush" – was exactly the same.
And, of course, that brings up another commonality between the two bands: the specter of failed intra-band relationships (and, by logical extension, the media's hyper-focus on them). If you did not know that Stefani and No Doubt bassist Tony Kanal dated,   then you have not read a single article about the group or listened to roughly one-third of their catalog. And during the frenzy that accompanied Riot!, it became quite popular to hypothesize that Williams and guitarist Josh Farro were an item, with many taking it one step further and assuming that their breakup was the reason Paramore nearly split last year. For the record, Williams nor Farro have ever commented on the rumors, but the attention remains.
And here is where I take the next logical step: Having broken through to the mainstream and dealt with everything that comes with it – the whirlwind tours, the media attention, the prying into all things personal – Paramore are now steeling themselves to do it all again, putting the past behind them and applying the finishing touches to their new album, which could quite possibly end up being their Return of Saturn.
Saturn was No Doubt's follow-up to the impossible-to-follow Tragic Kingdom. Its recording process was legendarily tumultuous, with band members battling each other and their label, Interscope. Songs were recorded, scrapped and then recorded all over again. Production stopped and stalled. Stefani wrestled with doubts about her songwriting ability (sounds like something Williams told us recently). The result was an album full of deeply personal ballads about failed loves and bathing in bathwater that confused a large portion of No Doubt's fans.
From what we know about Paramore's still-untitled new album, the Saturn comparisons seem strangely apt. They carried the same baggage and expectations into the studio. There has been writing in fits and starts and intra-band drama, and Williams is reportedly grappling with the same doubts. And when I visited the band at Rob Cavallo's studio last month, I got the chance to hear six of the new songs, and let's just say they have slowed it down a bit on a couple of them. (Forget jumpimg off the ledge now, Paramore loyalists – there's still plenty of classic snarl to be heard, too.)
Will the new Paramore album be their Return of Saturn? Who knows? But the signs are pointing to "yes," which might be why No Doubt are taking Paramore out on the road with them this summer (their tour kicked off Tuesday night in Fresno, California). Perhaps Gwen and Tony will have a nice long chat with Hayley and Josh. Maybe there will be an official passing of the torch. It would make sense. After all, these two bands have a history – they just might not realize it.